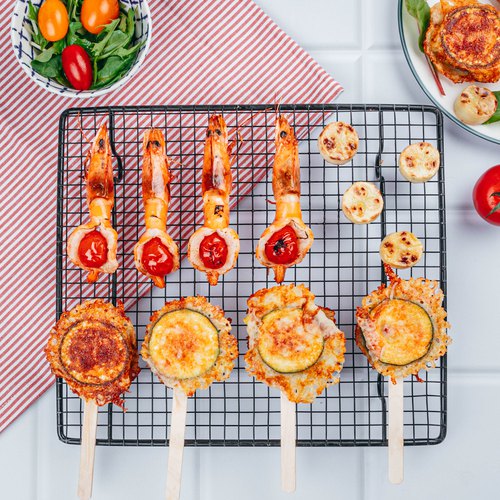 Seaside Shrimp BBQ
Seaside Shrimp BBQ! A fun & delicious appetizer🦐😉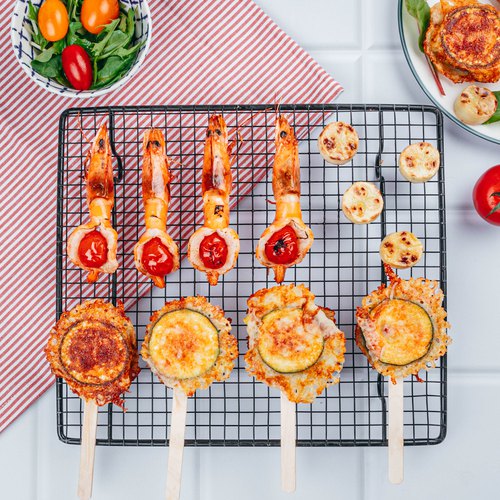 ---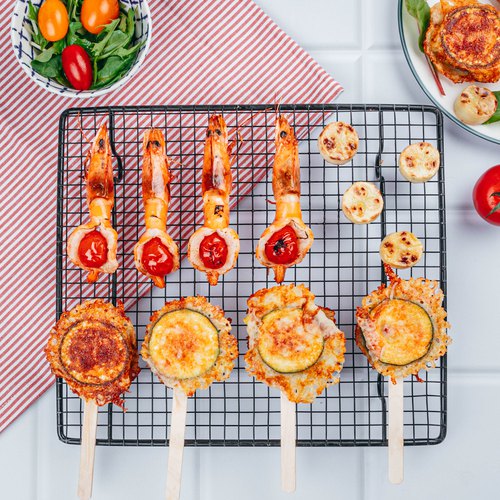 ---
Total time: 30 minutes
Prep time: 20 minutes, Cook time: 10 minutes
Ingredients for 2 people
Lettuce
Chefclub vegetable seasoning
10 shrimps
10 cherry tomatoes
Butter
Parsley
2 zucchinis
Bell peppers
Tomato sauce
Mozzarella
---
Tools
Popsicle sticks
Skewers
---
Step 1/3
Melt the mozzarella cheese on the plancha. Remove the inside of the zucchinis, cut into rings and cook in boiling water until softened. Remove excess water and place in a small roasting pan. Insert a popsicle stick into the side of the zucchini, making a lollipop. Place the lollipops over the melted cheese on the plate and fill with tomato sauce. Add more cheese and finish with cooked chopped peppers.
Step 2/3
Clean the shrimp and devein. Stuff each one with a cherry tomato and pierce five stuffed shrimp with a skewer. Repeat the process to make a second shrimp skewer. Place a frying pan with butter on the grill. Sprinkle with parsley and the Chefclub vegetable seasoning. Brush the shrimp with the seasoned butter and allow to cook.
Step 3/3
Serve the shrimp with the stuffed zucchinis. Add lettuce and cherry tomatoes to the dish. Enjoy!