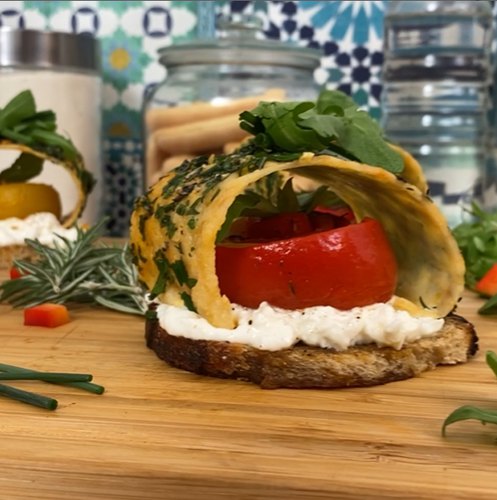 Veggie Bruschetta
Veggie Bruschetta! The perfect vegetarian appetizer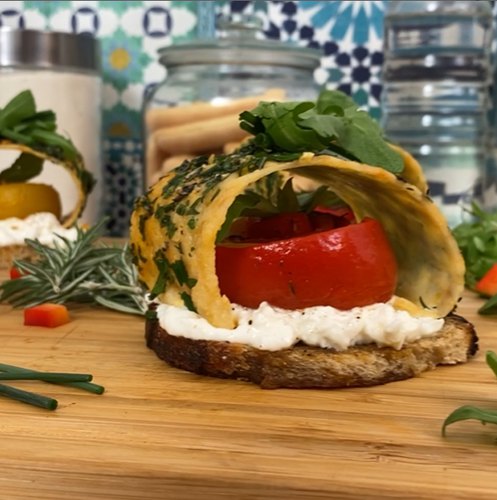 ---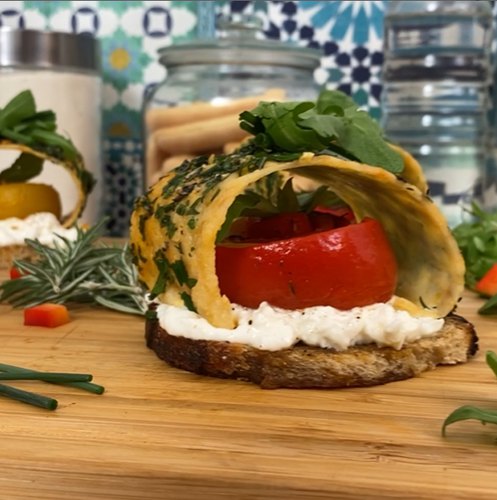 ---
Total time: 40 minutes
Prep time: 5 minutes, Cook time: 35 minutes
Ingredients for 4 people
2 red bell peppers
2 yellow bell peppers
5 tbsp of olive oil
2 tbsp of chefclub vegetable seasoning
4 slices of bread
3 1/2 oz of parmesan
2 tbsp of paprika
1 mozzarella
Basil
Salad
Pepper
Thyme
Rosemary
---
Tools
Cling wrap
Rolling pin or metal rod
parchment paper
Plastic cups
---
Step 1/4
Cut the bell peppers into strips then mix 2 tbsp of Chefclub vegetable seasoning with the olive oil. Pour the sauce over the bell peppers. Place the oven rack over a dish then skewer the bell peppers 4 by 4. Place them on the rack so that the peppers pass between the bars. Remove the dish then bake for 20 minutes at 350°F (placing the rack over a baking sheet).
Step 2/4
Cut circles in the bread using a bowl. Save the scraps, cover them with cling wrap and set aside. Bake the slices for 10 minutes at 350°F, placing them on the baking sheet, under the bell peppers to soak them in the sauce.
Step 3/4
Reserve the cooked bell pepper strips in a bowl and cover with cling wrap (allow them to cool). Finely chop the sprigs of rosemary, parsley and thyme and group them into a rectangle. Place the parmesan on a baking sheet lined with parchment paper, forming a rectangle and pressing down the edges with a knife. Sprinkle with 2 tbsp of paprika and bake for 5 minutes at 350°F.
Step 4/4
Place the parmesan tuile on the herbs, cut into 4 equal parts and use the rolling pin to give them a circular shape. Remove the skin from the bell peppers. Cut off the top of the cups to use as a mold and line the inside with the pepper strips. Place the strips to obtain a rose shape. Mash the mozzarella with a fork to spread on the slices of bread. Season with pepper and place the garnished cup tops on the slices. Remove the cups to leave only the pepper flowers. Decorate with basil leaves and place the parmesan tuiles on top as domes. Sprinkle with chives, serve with salad and enjoy!