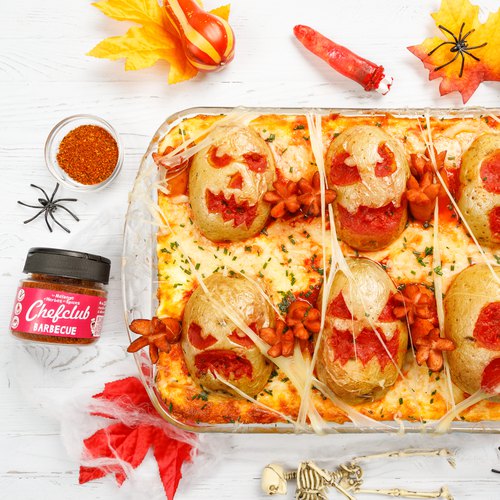 Monster Mashed Casserole
Monster Mashed Casserole! It's time to do (eat) the Monster Mash! 👹🎃🧟‍♂️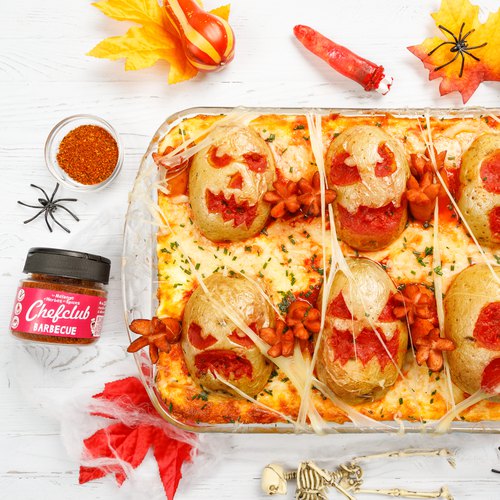 ---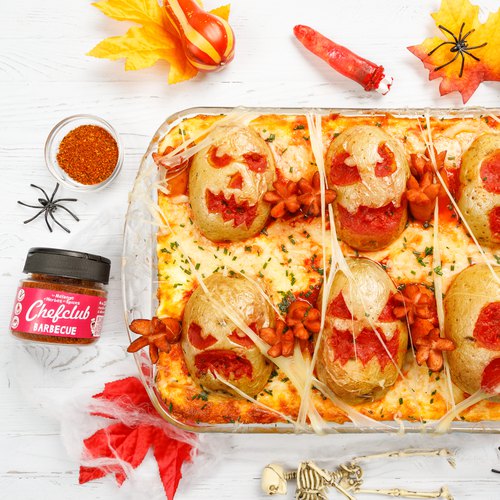 ---
Total time: 1 hour 14 minutes
Prep time: 39 minutes, Cook time: 35 minutes
Ingredients for 6 people
12 hot dogs
2 tbsp of anise-flavoured spirit
2 tbsp of chefclub bbq spice mix
6 potatoes
2 tbsp of olive oil
1/4 cup of heavy cream
Chives
Salt & pepper
Garlic powder
1 3/4 lbs of mashed potatoes
1 tbsp of bechamel sauce
5.3 oz of mozzarella
1/2 cup of tomato sauce
Oil
---
Tools
Skewers
---
Step 1/3
Cut 6 hot dogs in 2, skewer 12 hot dogs halves with skewers, make slits with scissors and fry in hot oil. Flambé the hot dogs with the anise-flavored spirit and sprinkle with Chefclub bbq spice mix. Place 6 potatoes in a dish with a drizzle of olive oil and bake for 20 minutes at 350°F.
Step 2/3
Make eyes and a mouth on each potato, turn it over and cut it as shown in the video. Cut again and empty the inside. Place the insides of the potatoes in a bowl with the rest of the seasonings, heavy cream, chives, salt, garlic powder, pepper and mix. Stuff the potatoes with the mashed potatoes. Add the remaining mashed potatoes to the dish. Add the sausages and cover with the rest of the mashed potatoes.
Step 3/3
Spread the bechamel sauce, sprinkle the grated mozzarella on top and pour the tomato sauce. Place the potatoes in the tomato sauce and add the rest to the eyes and mouth. Place the hot dog halves on each side of the potatoes, bake for 15 minutes at 350°F and sprinkle with chives. Melt the grated mozzarella, stretch with forks and place to create cobwebs. Serve and enjoy!