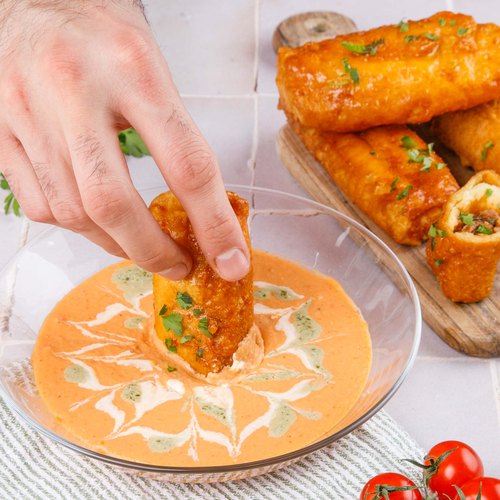 Tomato Soup & Loaded Potato Sticks
Tomato Soup & Loaded Potato Sticks! Warm up to this comforting recipe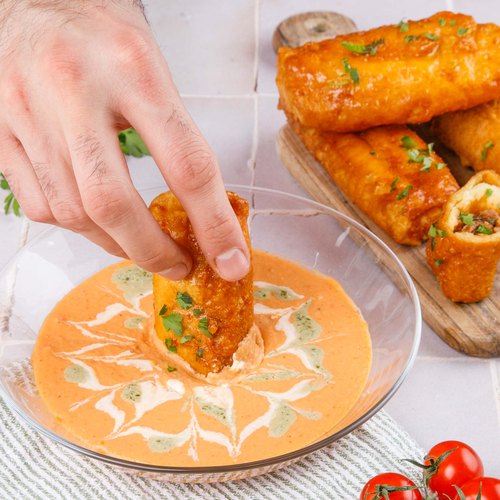 ---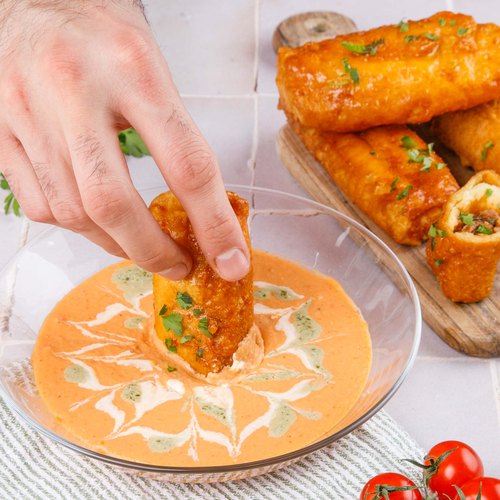 ---
Total time: 2 hours
Prep time: 40 minutes, Cook time: 1 hour 20 minutes
Ingredients for 4 people
1 clove garlic
22 cherry tomatoes
2 tsp of parsley
1 cup of heavy cream
0.2 cup of pea puree
3 1/2 oz of ground beef
1 onion
1 cup of tomato sauce
1.1 lbs of potatoes
1 1/4 cups of milk
3 tbsp of sour cream
---
Tools
parchment paper
Blender
---
Step 1/3
Place the garlic on a baking sheet lined with parchment paper and bake for 60 minutes at 370°F to obtain confit garlic. Crush the cherry tomatoes, place them in a hot pan, add the parsley, the confit garlic, the heavy cream and mix until a smooth. Pour the mixture into a blender, add salt, pepper, the remaining cream, and blend. Pour the soup into a plate, pour the remaining cream in a spiral shape, and repeat the process with the pea puree.
Step 2/3
Cut the onion into pieces, cook the ground beef in a hot pan, add the onion, parsley, and tomato sauce. Peel and cut the potatoes into pieces, cook them in 1 liter of salted water, mash the potatoes, mix them with milk until smooth. Add the sour cream, mix again, and form a rectangle on a baking sheet covered with parchment paper.
Step 3/3
Start by cutting a strip of mashed potato and creating a hollow in the middle. Fill the hollow with the ground meat mixture and then close it up so that the meat is fully enclosed within the mashed potato. Repeat this process four times, and then fry the stuffed potato strips in oil until golden brown. Finally, cut the potato rolls in half, place them in a bowl, and enjoy!