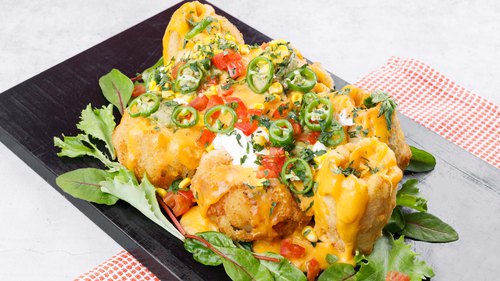 CBD Bloomin' Onion Nachos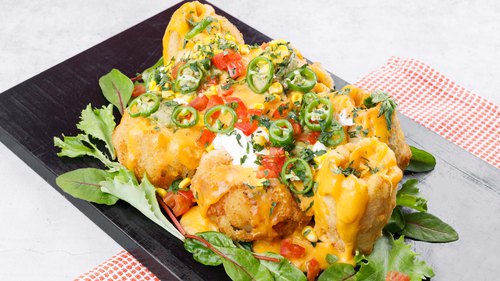 ---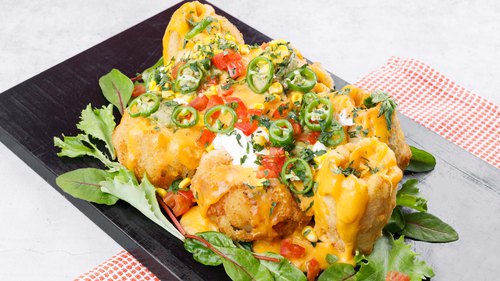 ---
Total time: 1 hour 30 minutes
Prep time: 30 minutes, Cook time: 30 minutes, Rest time: 30 minutes
Ingredients for 4 people
2 vidalia onions
3 boiled potatoes
2 cups of flour
2 eggs
2 1/4 cups of milk
2 cups of breadcrumbs
Salt & pepper
4 oz of CBD
1/2 cup of cilantro
1 clove garlic
2 tbsp of butter
8 oz of shredded cheddar
Sour cream
Guacamole
2 tomatoes
1/4 cup of corn
2 jalapeños
2 1/2 l of oil
3 tbsp of olive oil
---
Tools
Parchement paper
---
Step 1/5
Cut a small, flat cut in the top of each onion (opposite root side) and remove the peel and any remaining roots. Slice 3/4 of the way through each onion with the apple slicer and remove the core. Cut a small flat bottom on each potato.
Step 2/5
Add the flour to one a shallow bowls. Whisk the eggs and 1 cup of milk together in another of bowl. Add the breadcrumbs, salt and pepper an additional bowl. One by one, add the onion to the flour, then the egg-milk mixture, then back to the flour, more egg and then the seasoned breadcrumbs. Place each breaded onion on a parchment-lined baking sheet. Repeat the process with the potatoes, but only coat them in flour and then egg one time. Place the breaded potatoes on the baking sheet. Place the sheet in the refrigerator for 30 minutes.
Step 3/5
Heat the frying oil to 375°F degrees. Meanwhile, add the CBD buds, 1/2 cup of cilantro, smashed garlic clove, a pinch of salt and 2 tbsp of olive oil to the blender. Blend until you have a nice paste (like pesto), adding more oil as needed to achieve this texture. Set aside.
Step 4/5
Add the butter to the small saucepan over medium-high heat. Once melted, whisk in 2 tbsp of flour and mix continually for 1 minute. Next, add 1.25 cups of milk and bring to a simmer. Turn the heat to low, then add the shredded cheddar, mixing well, until the cheese is fully melted. Stir the CBD sauce into the melted cheese until well blended.
Step 5/5
Fry each onion and potato - one at a time - until golden brown. Drain each one on a paper towel, then place onto a serving dish. Pour the CBD cheddar sauce over the fried onions and potatoes. Add sour cream and guacamole to taste. Garnish with the diced tomatoes, corn, sliced jalapeños, and chopped cilantro.