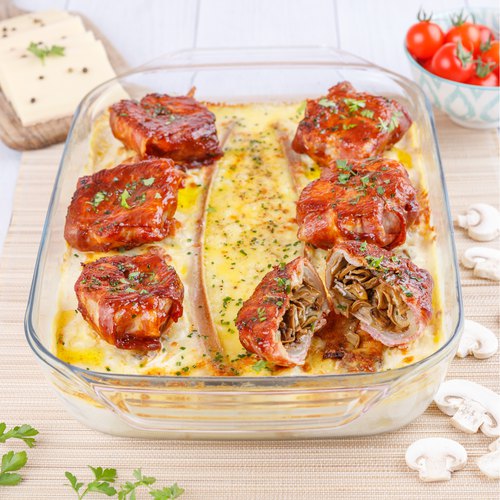 Baked Gnocchi Casserole
Baked Gnocchi Casserole! The creamy dish you've been craving 😋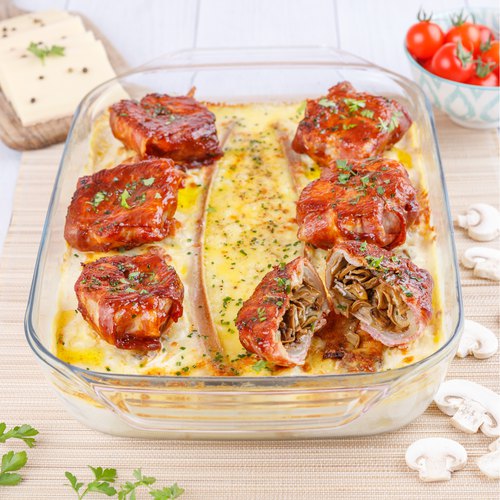 ---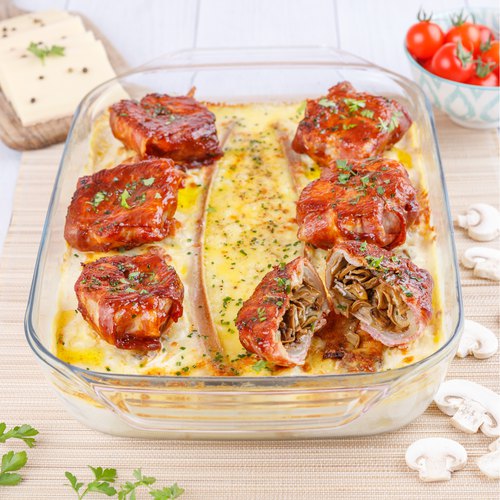 ---
Total time: 1 hour 50 minutes
Prep time: 30 minutes, Cook time: 1 hour 20 minutes
Ingredients for 6 people
1 lb of potatoes
1 1/2 cups of flour
Salt & pepper
Nutmeg
1 egg
2 onions
Smoked bacon
8 1/2 oz of mozzarella
Raclette cheese
1 cup of mushrooms
Chives
2 cups of heavy cream
---
Tools
Plastic soda bottle
Apple corer
---
Step 1/4
Peel and cut the potatoes and cook in a pot of boiling water. Drain and mash them with the flour, nutmeg, egg and season with salt and pepper. Mix everything together to make a gnocchi dough.
Step 2/4
Cut a plastic bottle in half lengthwise, keeping the bottom of the bottle. Preheat the tip of the apple corer and drill holes all over the half of the bottle. Put the gnocchi dough in the bottle, place the bottle on an upside down salt shaker and place a small bowl inside the bottle, to press the dough. Cut off the top and bottom of a large plastic bottle and place it over the half of the gnocchi filled bottle. Press the dough down and slide the large bottle to cut the dough that comes out of the holes. Lift the bottle and repeat the process to make the gnocchi with all the dough.
Step 3/4
Cook the gnocchi in a pan of boiling salted water, drain and set aside. Cut the onions and cook them in a hot skillet greased with butter and set aside. Place the smoked bacon slices on top of each other to make a star, peel and cut an onion in half, remove the core and set aside. Place the hollowed onion over the smoked bacon slices, fill with the cooked mushrooms and close everything with the bacon slices. Repeat the process to make 6 stuffed smoked bacon balls and bake for 15 minutes at 350°F.
Step 4/4
Cut the remaining onions and cook them in a hot skillet with butter and sugar. Place the raclette cheese in a dish and arrange the gnocchi around it. Cover everything with the cream, season with pepper, add the caramelized onion and the grated mozzarella. Bake in the oven for 20 minutes at 350°F. Add the bacon balls with the gnocci. Sprinkle with chives and enjoy!