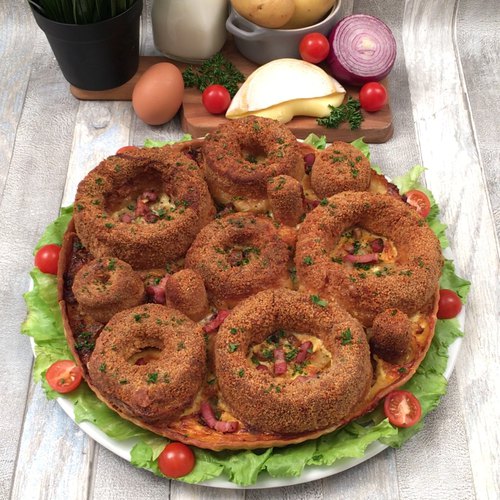 Crunchy Cheese Pie
A French classic turned on its head! 🙃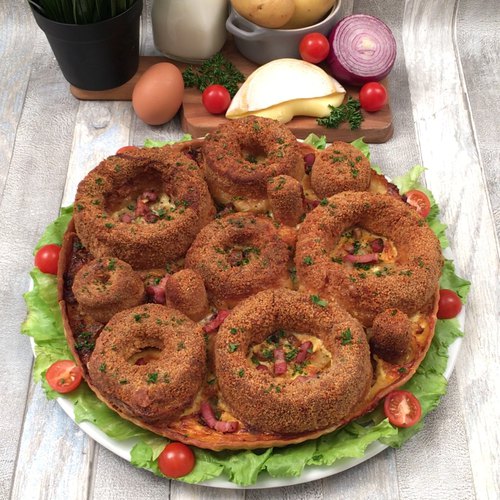 ---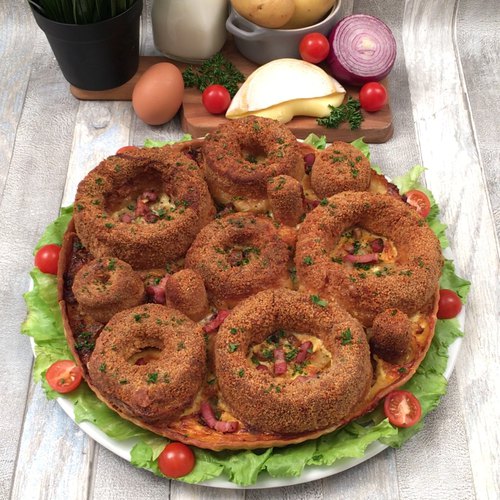 ---
Ingredients for 6 people
3 small wheels raclette cheese
1 2/3 cups of flour
6 eggs
1 2/3 cups of breadcrumbs
17 slices of bacon, diced
1 onion, diced
1 3/4 cups of home fries
1 portion of puff pastry
3/4 cup of cream
vegetable oil
parsley
1 apple corer
1 tart pan
---
Tools
Large glass
Small glass
---
Step 1/3
Use the large glass to cut a ring in each wheel of raclette cheese. Use the small glass or apple corer to cut another ring in the center piece of cheese to obtain 9 total pieces of raclette in various sizes. Bread the pieces by dipping them in the flour followed by 3 beaten eggs and lastly the breadcrumbs and fry them till golden brown.
Step 2/3
Fry the bacon and onion. Fry the home fries. Place the puff pastry in the pie dish and add the bacon, onion, and potatoes.
Step 3/3
Arrange the pieces of raclette cheese on top. Beat the remaining eggs with the cream, pour into the tart pan and bake in the oven for 30 minutes at 350°F. Remove from the oven, sprinkle with chopped parsley, slice and enjoy!
Similar recipes from Chefclub
-
Our other recipes