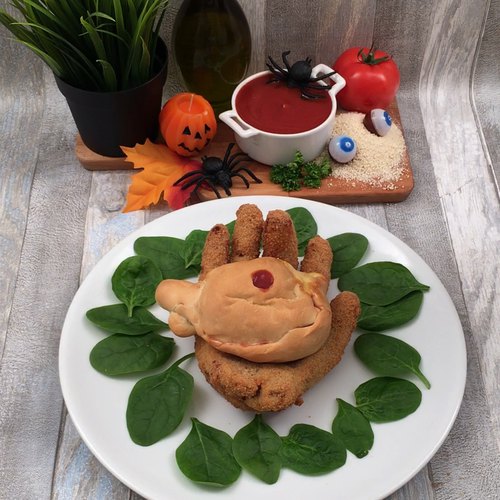 Easy, Freaky, Fried Meatloaf
Grab dinner! 🖐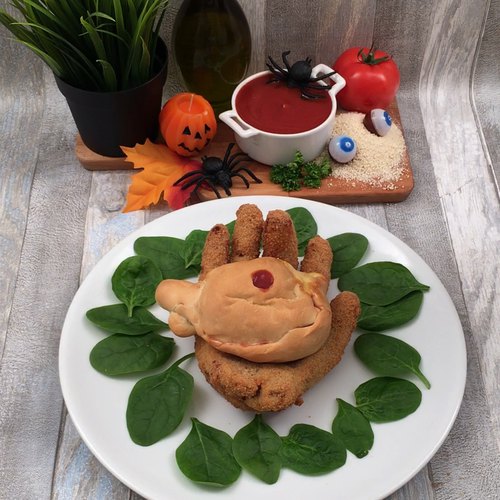 ---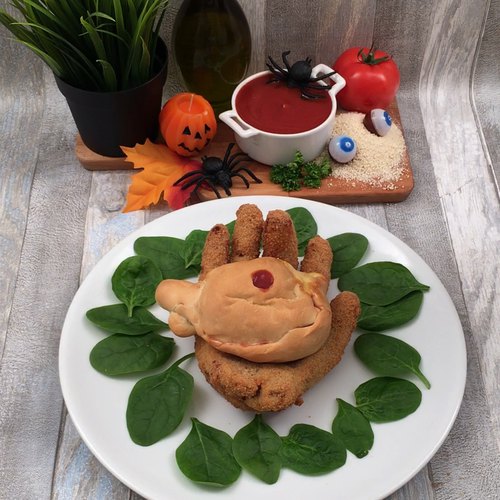 ---
Ingredients for 4 people
ground beef
tomato
pizza dough
flour
eggs
breadcrumbs
vegetable oil
tomato sauce
---
Tools
Disposable glove, washed
Glass straw
Parchment paper
---
Step 1/3
Wash the disposable glove and fill it with ground beef, making sure to fill each finger well. Put the palm of the glove on top of a tomato to shape it and put it in the freezer for 1 hour.
Step 2/3
Use a bowl to cut 2 discs out of the pizza dough. Place the glass straw on top of one disc and top with the other disk. Bond the edges of the discs together well and blow into the straw to form a dome. Use the rest of the dough to make a small cross and place it on the edge of the dome to form the arteries of a heart. Put it on a baking sheet with parchment paper and bake for 15 minutes at 350 °F.
Step 3/3
Take the glove out of the freezer and cut and remove it from the meat. Cover the meat in flour, then dip in in the eggs, and last, dip it in the breadcrumbs. Fry the breaded meat in the vegetable oil and drain it. Place the pizza dough heart in the palm of the meat hand. Cut a hole in the heart and fill it with tomato sauce. Break the heart and enjoy!