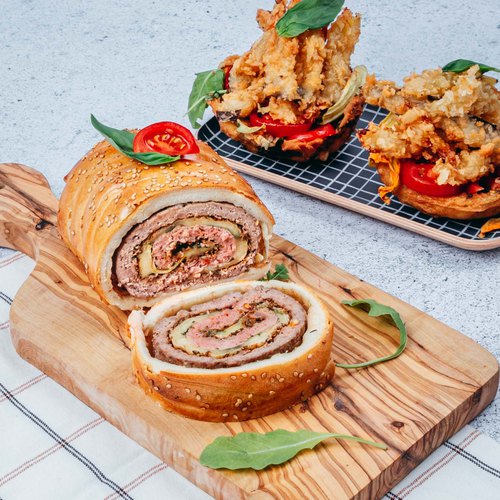 Italian Burger Log
Italian Burger Log! With sunny vegetable tempura 😋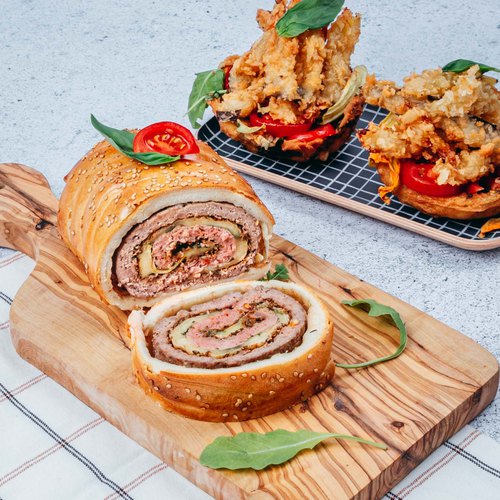 ---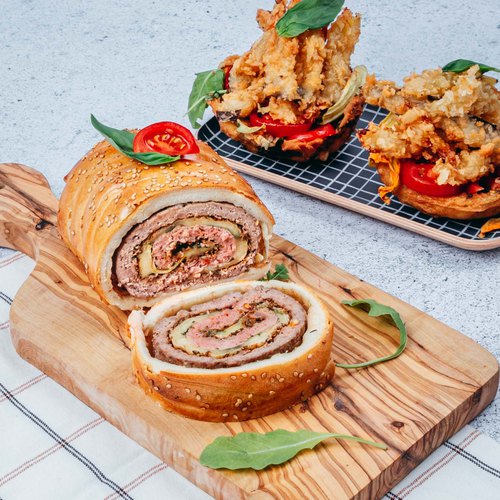 ---
Total time: 1 hour 20 minutes
Prep time: 45 minutes, Cook time: 35 minutes
Ingredients for 6 people
2 eggplants
1 1/4 cups of flour
1 tsp of yeast
1 tsp of salt
7 tbsp of cornflour
1 egg yolk
3/5 cup of sparkling water
3/5 cup of breadcrumbs
1.3 cups of ground beef
3 tbsp of chefclub ground beef seasoning
3 tbsp of tomato sauce
1 zucchini
1 mozzarella
2 pinches of salt & pepper
1 pizza dough
1 egg
Oil
Sesame seeds
---
Tools
parchment paper
Rolling pin or metal rod
---
Step 1/3
Cut thin slices in the eggplant but do not go all the way to the the stem. Pass in the flour followed by the eggwash and breadcrumbs. Fry in hot oil until golden brown.
Step 2/3
Mix ground beef with Chefclub seasoning and place on parchment paper. Add another sheet of parchment paper and roll out into a rectangle. Remove the top sheet of parchment paper and coat the meat with tomato sauce. Place slices of zucchini and mozzarella on top. Season with salt and pepper. Add the basil leaves and roll the ground beef on itself.
Step 3/3
Place the meat roll in the middle of the pizza dough. Cut strips in the dough to wrap around the meat roll. Brush with egg yolk and sprinkle with sesame seeds. Bake 15 minutes at 350°F. Serve with the fried eggplant and enjoy!