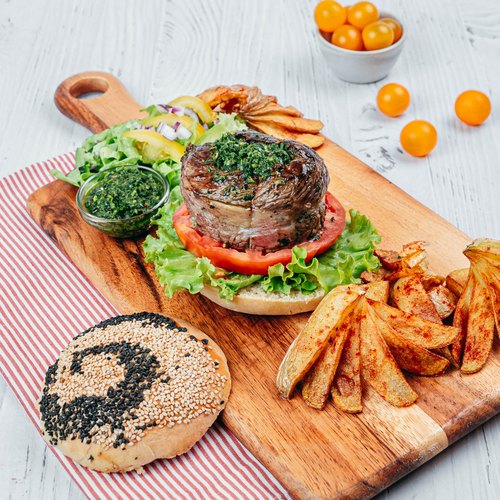 Pinwheel Steak Sandwich
Pinwheel Steak Sandwich! Served with crispy fries 🥪🍟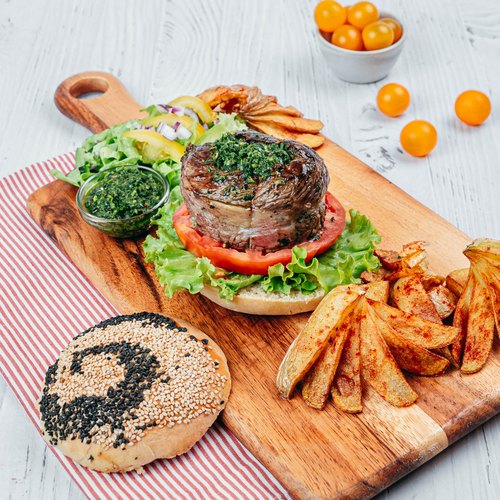 ---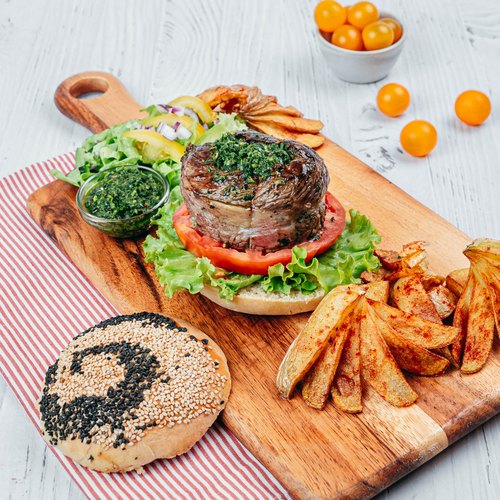 ---
Total time: 3 hours 15 minutes
Prep time: 40 minutes, Cook time: 15 minutes, Rest time: 2 hours 20 minutes
Ingredients for 8 people
1 tbsp of milk
1 ribs
1 cup of sesame seeds
1 cup of black sesame seeds
2 egg
1 cup of warm water
1 l of oil
1 lb of flour
2 tbsp of olive oil
1 cup of chimichurri
4 potatoes
1 tsp of salt
2 1/2 tsp of yeast
3 tbsp of sugar
3 tbsp of melted butter
Salad
---
Tools
Electric mixer
Cling wrap
parchment paper
Skewers
Kitchen twine
---
Step 1/5
Place yeast into bowl of a standing mixer. Whisk in 1/2 cup of the flour and warm water until smooth. Let the mixture rest until it is foamy, 10 to 15 minutes. Whisk 1 egg, the melted butter, sugar and salt thoroughly into the yeast mixture. Add remaining flour.
Step 2/5
Fit a dough hook onto the mixer and knead the dough on low speed until soft and still a bit sticky. Transfer dough onto a floured work surface. Form dough into a smooth, round shape. Clean the stand mixer bowl and coat it with olive oil. Place the dough in the bowl and turn it several times until it is lightly coated with oil. Cover the bowl with cling wrap and let the dough rise in a warm place until doubled in size, about 2 hours.
Step 3/5
Preheat the oven to 350ºF. Fill a bottle with black sesame and the other bottle with white. Make a spiral shape on a plate as shown in the video. Beat the remaining egg with the milk in a small bowl until smooth. Brush the tops of the buns with beaten egg and carefully top with a spiral of sesame seeds. Place in the oven for about 15 minutes. Remove and let cool completely.
Step 4/5
Cut potatoes into slices and skewer in a spiral shape. Fry in hot oil until golden brown.
Step 5/5
Place the ribs in the chimichurri and roll it over itself. Secure the roll with kitchen twine. Top with additional chimichurri and cook on both sides. Remove the twine from the meat and cut it from the bone. Place on the homemade buns, along with lettuce and tomato. Serve with fries and enjoy!