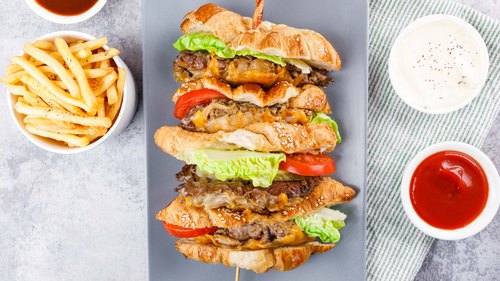 French Flair Burger
French Flair Burger! This recipe will have you saying 'yum la la' 😉🍔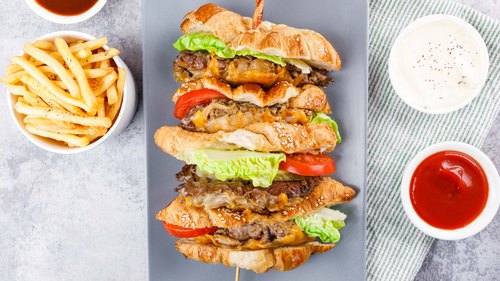 ---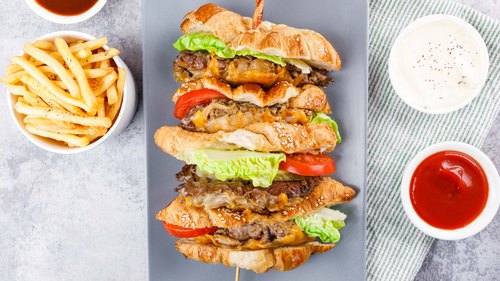 ---
Total time: 1 hour
Cook time: 1 hour
Ingredients for 3 people
1 puff pastry
2 tbsp of sesame seeds
1 egg
1 lb of ground beef
2 cups of caramelized onions
6 slices of cheddar
Lettuce
Tomatoes
Pickles
French fries
6 slices of bacon
1 cup of whiskey
1/4 cup of brown sugar
---
Tools
Skewers
Pastry brush
Meat press
---
Step 1/5
Preheat oven to 350°F. Roll out the puff pastry (not too thin). Cut into large triangles. Roll the dough around the handle of a wooden spoon. Slide off of the spoon and place onto a parchment lined baking sheet. Pinch the ends and form a slight crescent shape. Repeat with all the triangles. Brush with beaten egg and sprinkle sesame seeds on the croissants. Bake 20 minutes or until golden brown.
Step 2/5
Preheat the oven to 325˚F. Take two wooden skewers. Wrap each one with a slice or two of bacon. Brush with Jack Daniels. Sprinkle each skewer with brown sugar and place onto a parchment lined baking sheet. Bake for 15 minutes, turning the pan halfway through the cooking to ensure the bacon is cooked evenly.
Step 3/5
Preheat the griddle to high heat. Place two balls of hamburger meat on the griddle. Use the meat press to flatten out the meat. Top with caramelised onions. Place 2 slices of cheddar cheese onto a similar size piece of parchment paper. Melt the cheese on the parchment paper on the griddle. Flip the paper over onto the caramelized onion hamburger. Use a large spatula to transfer the meat to a cutting board.
Step 4/5
Take two croissants and slice them vertically lengthwise into 3 parts each. Lay the slices flat on a plate or cutting board. Begin layering with lettuce, tomato, pickles and any of your favorite hamburger toppings.
Step 5/5
Cut the meat into 4 equal pieces and place them on 4 of the croissant slices. Start building your hamburger. Use a bacon wrapped skewer to hold the sandwich together. Serve with fries and your favorite dipping sauces. Enjoy!