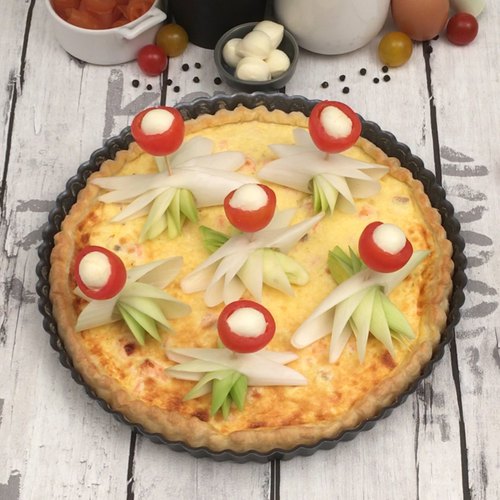 Tart of the seas
A splash of glamour in your belly! 🐟😍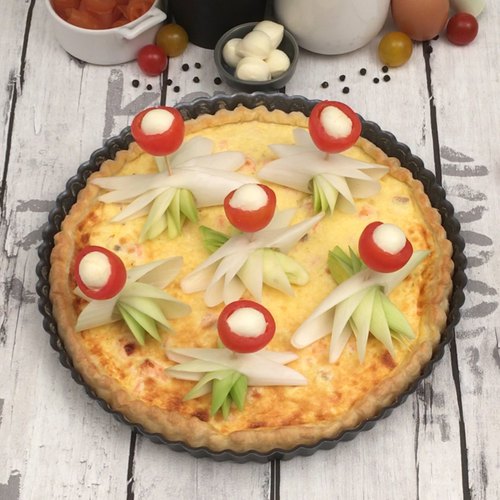 ---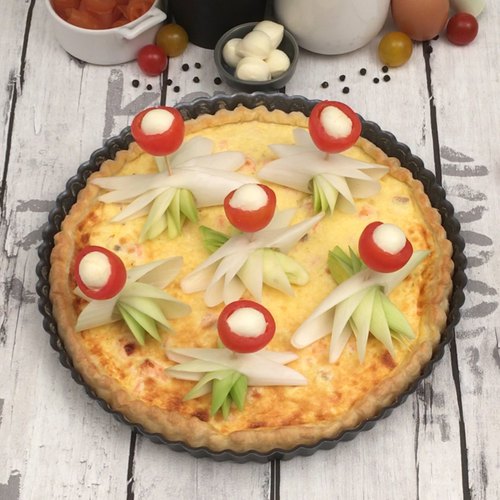 ---
Ingredients for 6 people
5 eggs
4/5 cup of heavy cream
1/2 cup of mozzarella, grated
1 fillet salmon, diced
1 puff pastry
6 cherry tomatoes
6 mini bocconcini
2 leeks
salt & pepper
---
Tools
Pie pan
Toothpicks
---
Step 1/4
Beat the eggs, cream, grated mozzarella, salt, pepper, and diced salmon. Place the puff pastry in the pie dish and prick the bottom with a fork. Pour the egg mixture into the dish and bake for 20 minutes at 350 °F.
Step 2/4
Cut the tops off of the cherry tomatoes, hollow them out, and place 1 mini bocconcini in each.
Step 3/4
Cut 6 slices of leek on a diagonal, 3/4 inch wide. Stick a toothpick through the middle of each and fan out each layer of leek around the toothpick to make stars. Blanch these stars for 1 minute in boiling water.
Step 4/4
Plant the leek stars on the quiche and stick the tomatoes on the toothpicks. Return to the oven for 5 minutes at 350 °F, slice and enjoy!