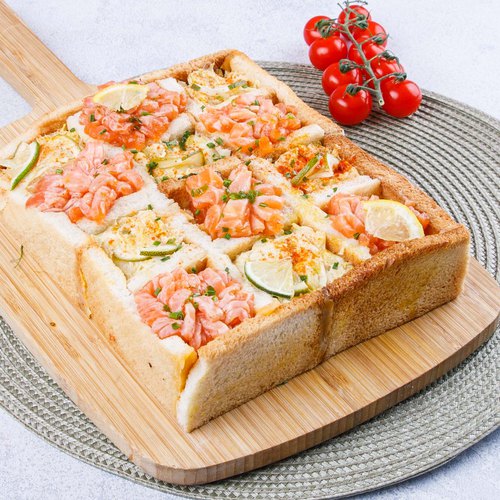 Salmon & Leek Checkerboard
Salmon & Leek Checkerboard! The perfect appetizer you've been looking for 😁🐟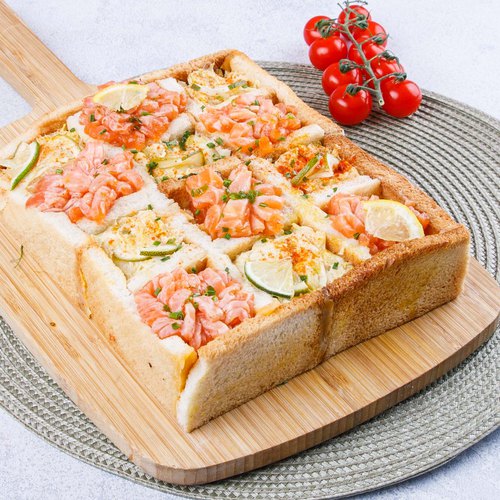 ---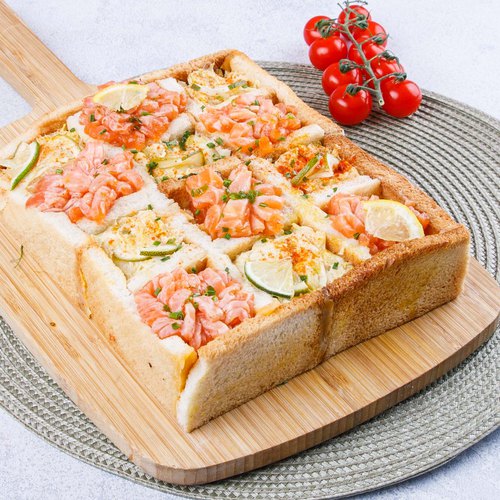 ---
Total time: 1 hour
Prep time: 30 minutes, Cook time: 30 minutes
Ingredients for 4 people
10 slices of bread
1 oz of cheddar
1 clove garlic
3 leeks
1 1/4 cups of heavy cream
Salt & pepper
10 mini mozzarella balls
1 salmon fillet
Salad
Cherry tomatoes
Soy sauce
---
Tools
Skewers
Blowtorch
---
Step 1/4
Cut 7 slices of sandwich bread in half, stack two large slices of sandwich bread side by side and stick the two half-slices of sandwich bread on top to form a square of sandwich bread. Cut a slice of bread into 9 and bake everything to toast them. Place a small handful (in a line) of grated cheese on the hot grill. Place two halves of toasted sandwich bread on the small pile of melted cheese to seal their ends. Place the square of sandwich bread above the row of melted cheese and seal it with the two toasted parts. Pour the cheese around the edges of the bread, let it melt before adding the half-slices of bread above and to the left of the square of bread.
Step 2/4
Make two lines of cheese on the right of the plancha, glue two half-slices of bread to their end and place them on the cheese. Place them in the center of the square of bread crosswise and hold down for a few seconds. Reserve everything. Place the last half-slices of sandwich bread side by side on a plate, pour cheese on the grill and press the structure of the sandwich bread on the melted cheese. Glue the sandwich bread structure on the two half-slices to close the box. Insert the three small squares of sandwich bread in a row at an equal distance and repeat the process for all the rows.
Step 3/4
Peel and chop the garlic and cut the leeks into pieces. Pour them into a saucepan with the garlic and the liquid cream and cook over low heat to obtain a leek fondue. Fill every other square with the leek fondue. Place a piece of salmon between two skewers and on a cutting board, then cut a crosshatch patter on the salmon.
Step 4/4
Place a ball of mozzarella on a plate, cut a third of the salmon, then open it to form a flower and place it on the mozzarella. Repeat the process to obtain 6 salmon flowers. Cover the flowers with a drizzle of soy sauce, slightly heat the top of the salmon flowers using a blowtorch. Place a salmon flower per remaining square in the box of sandwich bread. Serve in a dish with salad, a few balls of mozzarella and cherry tomatoes. Enjoy!