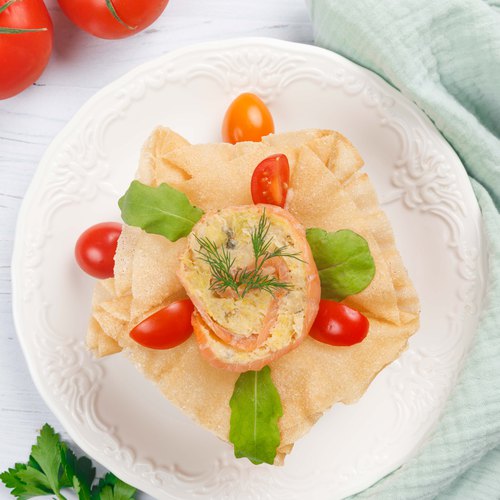 On Fleek Salmon Pastry
On Fleek Salmon Pastry! News leek, this recipe is delicious 🤗🐟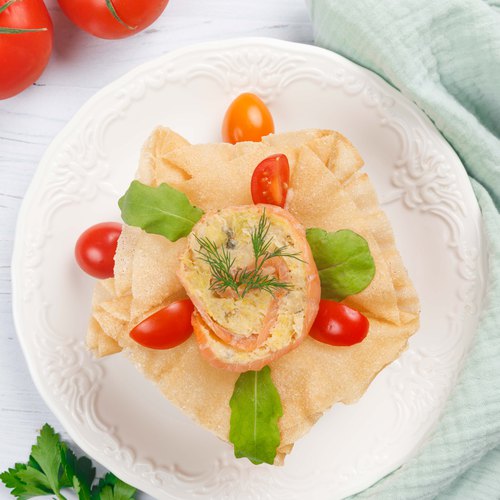 ---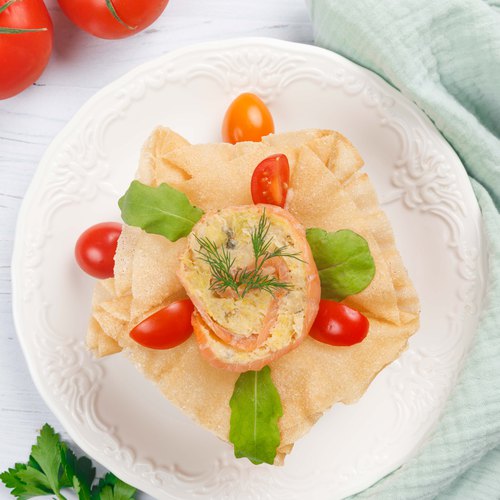 ---
Total time: 45 minutes
Prep time: 45 minutes
Ingredients for 3 people
3 leeks
6 puff pastry
2 tbsp of chefclub vegetable seasoning
3/5 cup of heavy cream
6 slices of smoked salmon
4 tbsp of pesto
3 cherry tomatoes
Lettuce
Dill
Butter
Salt & pepper
---
Tools
Kitchen twine
Cling wrap
---
Step 1/3
Tie the leeks together using kitchen twin. Cut the roots, place 2 sheets of puff pastry in the hot oil then plunge the end of the leeks onto the sheets of puff pastry vertically without moving in the oil. It will ressemble a cup. Repeat the process 2 times.
Step 2/3
Remove the kitchen twine from the leeks. Shred the leeks, rinse them and sprinkle with Chefclub vegetable seasoning. Cut them into pieces and sauté them in a pan with butter. Season with salt and pepper, add the heavy cream then mix together. Place the smoked salmon on the cling wrap, place the leek fondue on the smoked salmon, spread it over the salmon then form a sausage shape.
Step 3/3
Cut the sausage into 3 and add 1 teaspoon of pesto in each pastry sheet cup. Place lettuce around the cups then place the roll vertically in the center of the cups. Add cherry tomatoes and sprinkle with dill. Serve and enjoy!