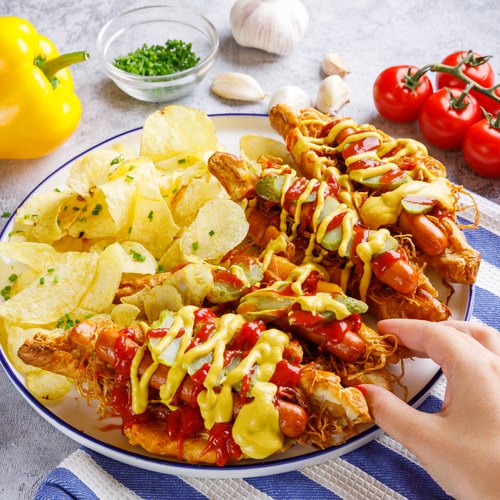 French Dog
When American hot dogs get Frenchified 🇺🇸🇫🇷🥐🌭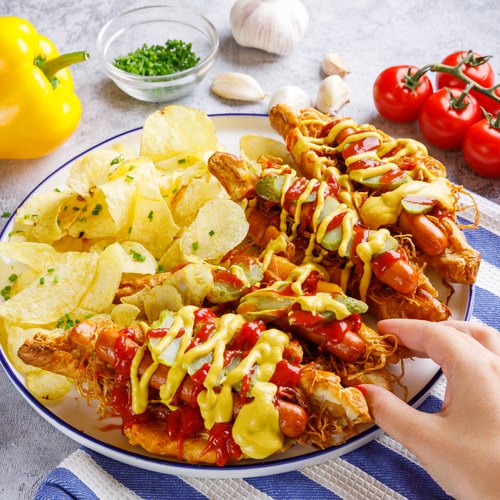 ---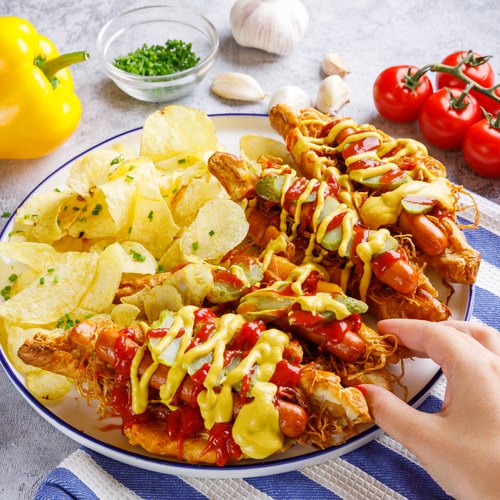 ---
Total time: 55 minutes
Prep time: 30 minutes, Cook time: 25 minutes
Ingredients for 4 people
flour
1 sheet of puff pastry
1 egg
4 yellow onions
sunflower oil
4 hot dogs
4 slices of cheddar
pickles
ketchup
mustard
chips
---
Tools
Parchment paper
Paper towels
Kitchen twine
---
Step 1/3
Dust your worksurface with flour, place the puff pastry sheet on top, cut into 4 triangles as seen in the video, and roll into croissants. Place them on a parchment lined baking sheet, give them a crescent shape, and brush with an egg wash. Bake for 15 minutes at 350 °F.
Step 2/3
Remove the ends from the onions, spiralize them, pat them dry, then deep fry in oil at 350 °F for about 5 minutes. Drain on paper towels and set aside for later. Next, thred the kitchen twine through the tops of the hot dogs, then make cuts down the edges of the hot dogs as seen in the video. Deep fry in the hot oil until golden brown and the slits have opened up.
Step 3/3
Cut the croissants open, place a slice of cheddar in the middle of each one, and return to the oven for 3 minutes at 350 °F to melt the cheese. Remove from the oven and garnish each croissant with the spiralized onions, hot dogs, pickles, ketchup, and mustard. Serve with chips and enjoy!