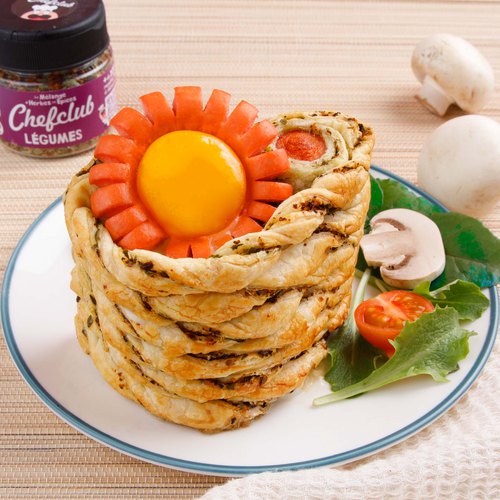 Flowery Hot Dog Cup
Flowery Hot Dog Cup! How can you resist such a delicious recipe 😚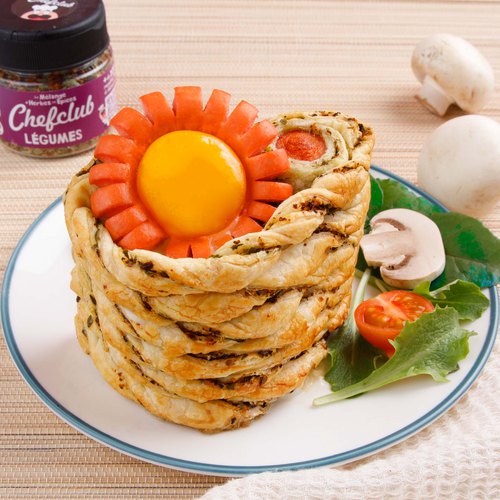 ---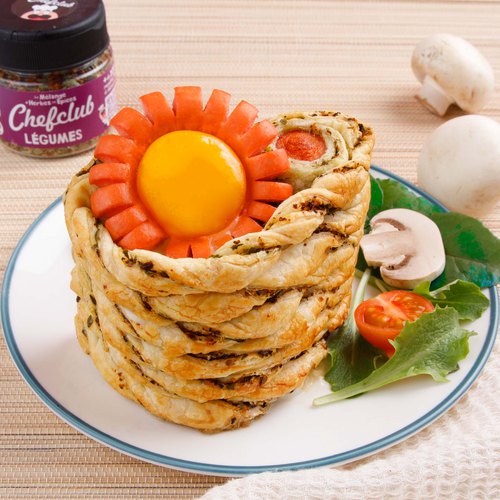 ---
Total time: 1 hour 35 minutes
Prep time: 40 minutes, Cook time: 25 minutes, Rest time: 30 minutes
Ingredients for 3 people
2 puff pastry
5 hot dogs
3 eggs
1.4 tbsp of butter
4 tbsp of chefclub vegetable seasoning
1 egg yolk
15 mushrooms
1 onion
Salad
4/5 cup of bechamel sauce
Salt & pepper
---
Tools
Toothpicks
Scissors
Glasses
Aluminium foil
---
Step 1/3
Find the recipe for the bechamel sauce on the chefclub.tv website. Cut 2 hot dogs in half lengthwise, cut the ends and make small cuts on one side of the half hot dog. Form a circle, holding the ends with a toothpick to form a flower. Separate the white from the yolks of 3 eggs, place the hot dog flower in a pan and place the egg yolks in the center of the flowers and cook for a few minutes.
Step 2/3
Melt the rest of the butter, brush it over the puff pastry. Spread the Chefclub Vegetable seasoning in a baking tray. Lay a rectangular puff pastry over the Chefclub Vegetable Spices, press the dough down so that the spices stick to the dough. Turn the puff pastry over and place it on the work surface. Cover it with the other rectangular puff pastry and flatten the puff pastry with a glass. Refrigerate for 30 minutes. Roll up a third of the puff pastry around a hot dog. Cut the other part of the puff pastry into strips and twist the strips. Cut the hot dog roll in 2 widthwise and wrap it with the strips around a glass covered with aluminum foil. Repeat the process until you have 3 rolls of puff pastry and spiral bread rolls. Place them on a baking sheet, brush them with egg yolk and bake for 25 minutes at 350°F.
Step 3/3
Cut the mushrooms and onion into strips, cook them in a hot pan, seasoning them with salt and pepper. Place the puff pastry rolls upright on a plate. Place the pan-fried mushrooms and onions in the center of the puff pastry rolls. Pour the bechamel sauce and place the sausage flowers on top. Enjoy!