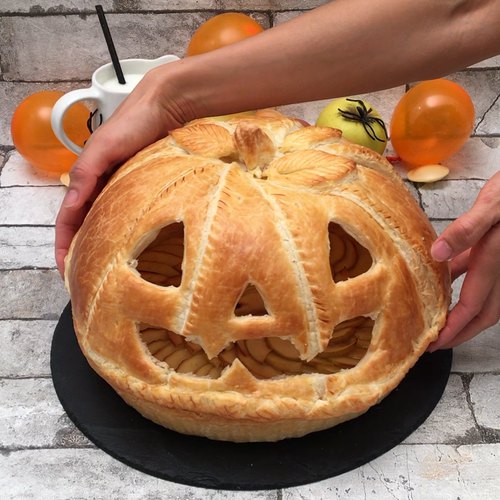 Flaming Carved Apple Pie
Spectacularly spooky. 🎃🍎🔥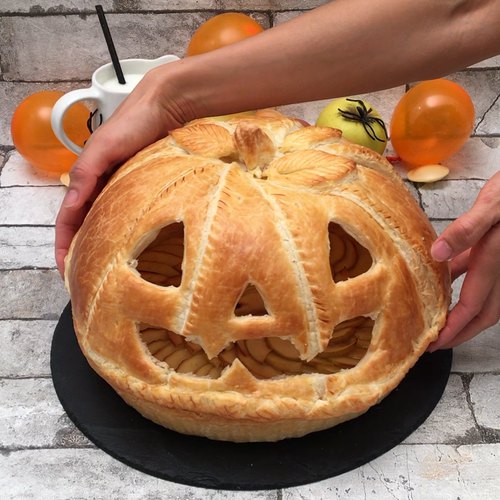 ---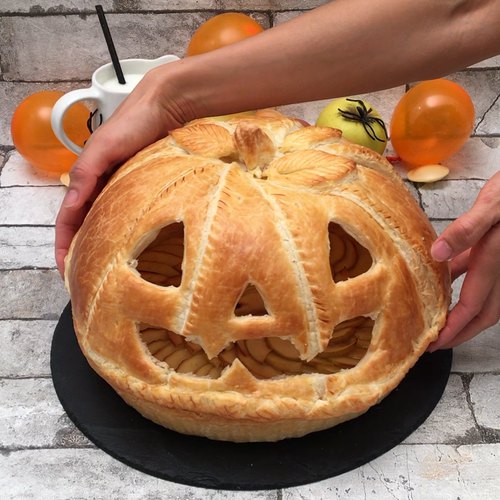 ---
Ingredients for 6 people
1 stick butter, melted
2 rectangular sheets puff pastry
2 egg yolks
1/2 cup of sugar
2 eggs
1/2 cup of flour
2/3 cup of ground almonds
1 round sheet puff pastry
3 apples
1 1/4 cups of rum
---
Tools
Foil
Mixing bowl
Pastry brush
Pie dish
---
Step 1/4
Turn a mixing bowl upside down and cover with foil. Brush melted butter over the foil. Cut a sheet of rectangular puff pastry in half and cut each half diagonally to create 4 triangles. Repeat with the other rectangular puff pastry sheet.
Step 2/4
Overlap the triangles on top of the foil to shape them into a dome, and pinch the top to form a stem. Use a knife to stitch the triangles' edges together and to carve the jack-o'-lantern's face. Decorate the top with puff pastry leaves and brush the jack-o'-lantern with egg yolks. Bake for 30 minutes at 350 °F and remove the face pieces.
Step 3/4
Line a pie dish with the round sheet of puff pastry. Mix a stick of butter with 1/2 cup of sugar. Add 2 eggs, 1/2 cup flour, and 1/2 cup ground almonds, and mix well. Spread this mixture on top of the pastry sheet in the pie dish. Thinly slice the apples and arrange them in the pie dish. Bake for 20 minutes at 350 °F.
Step 4/4
Once out of the oven, pour flaming rum on top of the apples and place the jack-o'-lantern dome on top of the pie. Enjoy!