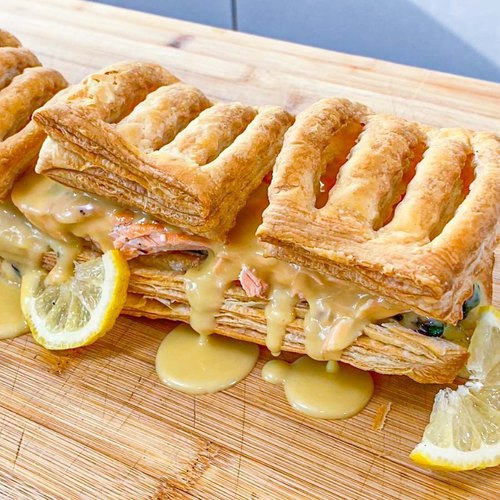 Grilled Salmon Puff Pastry
Grilled Salmon Puff Pastry! Another original idea for the bbq 😁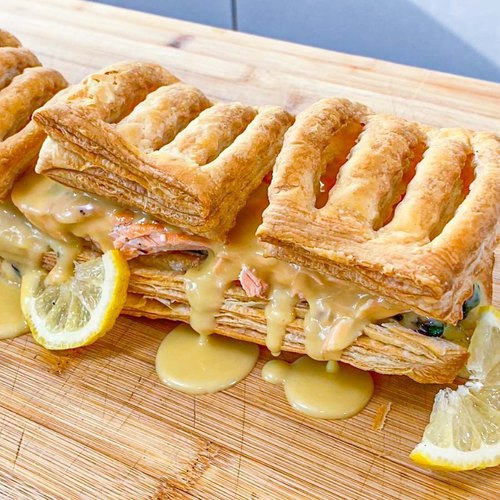 ---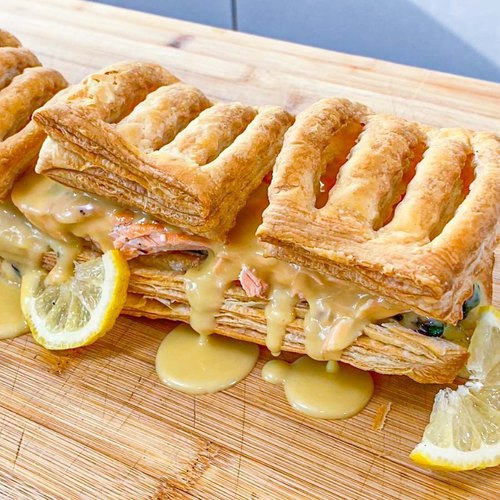 ---
Total time: 1 hour 25 minutes
Prep time: 40 minutes, Cook time: 45 minutes
Ingredients for 4 people
2 cups of olive oil
2 lemons
Garlic
4 sprigs of rosemary
4 sprigs of dill
4 sprigs of thyme
1 salmon fillet
1 puff pastry
1 red onion
0.4 cup of beurre blanc sauce
Spinach
---
Tools
Rolling pin or metal rod
Kitchen twine
---
Step 1/3
Cut the garlic into pieces. Heat the olive oil then stir in half the garlic, rosemary, dill, thyme and lemon into the olive oil and allow to infuse. Place remaining garlic, rosemary, dill and thyme on a barbecue grill. Place the salmon on the grill, brush with infused oil and add remaining herbs. Place a grid on top, tie the grids with twine and place vertically on the barbecue to let it all smoke.
Step 2/3
Cut the puff pastry in 2 lenthwise, cut one half of the puff pastry into a square, make incisions in each square. Place the puff pastry on the rolling pins and bake for 45 minutes at 350°F. Cut the red onion into pieces. Cook them with a drizzle of olive oil and add the spinach.
Step 3/3
Place the cooked spinach in the strip of puff pastry, cut the salmon and place it on the spinach. Pour the beurre blanc sauce, place the squares of puff pastry and enjoy!