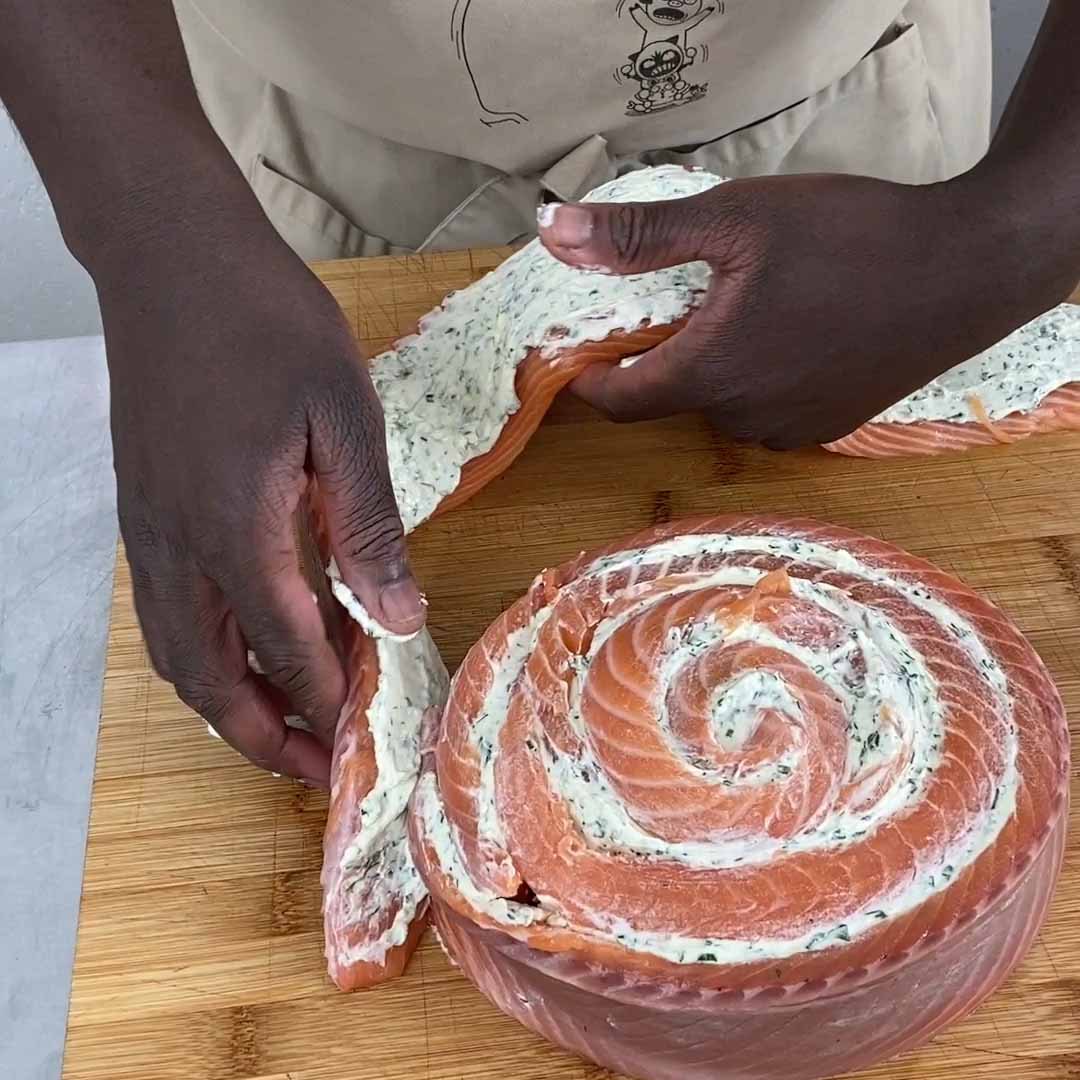 Jumbo Bagel Wreath
Go brunch or go home!
---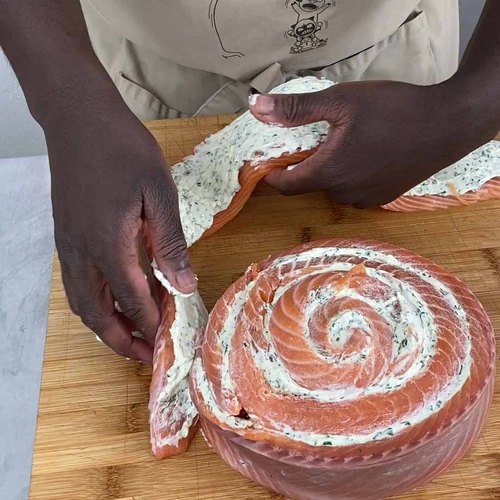 ---
Total time: 60 minutes
Ingredients for 8 people
4 cups flour
1/2 tsp salt
1 tbsp sugar
1 tbsp brown sugar
1 package yeast
1 tbsp olive oil
1 1/2 cups water
3 lbs fresh salmon
3 1/2 cups cream cheese
3 tbsp parsley
3 tbsp dill
3 tbsp chives
2 tsp garlic powder
Salt & pepper to taste
1 cup maple syrup
1/3 cup soy sauce
6 tbsp brown sugar
1/4 tsp salt
1/4 tsp pepper
1 tbsp ginger, chopped
1 clove garlic, minced
2 jalapeños
1 orange
Sesame seeds
Everything bagel seasoning
Tomatoes
Lettuce
Red onion
Avocado
Cherry tomatoes
Dill
Capers
Smoked salmon
---
Tools
Kitchen twine
Scissors
---
Step 1/4
Mix the flour, salt, sugar, 3 tbsp brown sugar, yeast, lukewarm water, and oil and knead for 10 minutes. Once the dough is well kneaded, place it in a bowl and cover with a cloth. Let rise for one hour.
Step 2/4
Take the large piece of salmon and carefully slice it into 5 long, flat pieces, removing any bones. In a large bowl mix the cream cheese, parsley, dill, chives, garlic powder, salt, and pepper. Spread the cream cheese mixture onto the surface of the salmon slices. Then roll one slice of salmon and place it onto another slice and roll. Continue until you have one giant salmon & cream cheese roll. Wrap a piece of kitchen twine around the salmon roll to hold it together and place in the fridge to chill for 15 minutes. Then place in the oven and bake for 30 minutes at 350°F. Meanwhile, in a sauce pan over medium heat mix the maple syrup, soy sauce, 6 tbsp brown sugar, salt & pepper, ginger, garlic, jalapeño, orange zest, and orange juice. While the salmon is cooking, pour the glaze on top and spread it over the surface of the salmon. Return to the oven to finish cooking.
Step 3/4
Once the dough is done resting, sprinkle flour on your work space, knead the dough, and form it into a long roll. Connect the two ends to make a bagel shape. Flatten the surface of the bagel and make slits in the dough using a scissors so that there are 8 triangular peaks. Then make more slits in the inner circle of the bagel to form small balls beneath each triangle. Let rest in a cool place for 20 minutes. Prepare a large pot of boiling water with a little salt. Plunge the bagel into the water and let cook for 2 to 3 minutes while frequently pouring ladles of hot water onto the surface so that it cooks evenly. When it comes out of the water, add the sesame seeds and everything bagel seasoning. Bake for 10 minutes at 425°F.
Step 4/4
Let the bagel cool and cut it in half. Cover the bagel with the rest of the cream cheese spread and top with tomatoes and lettuce. Place the cooked salmon roll on top and remove the kitchen twine. Top with red onions and avocado. Cover the bagel and garnish with cherry tomatoes, dill, and capers. Finish with a smoked salmon bow, serve, and enjoy!