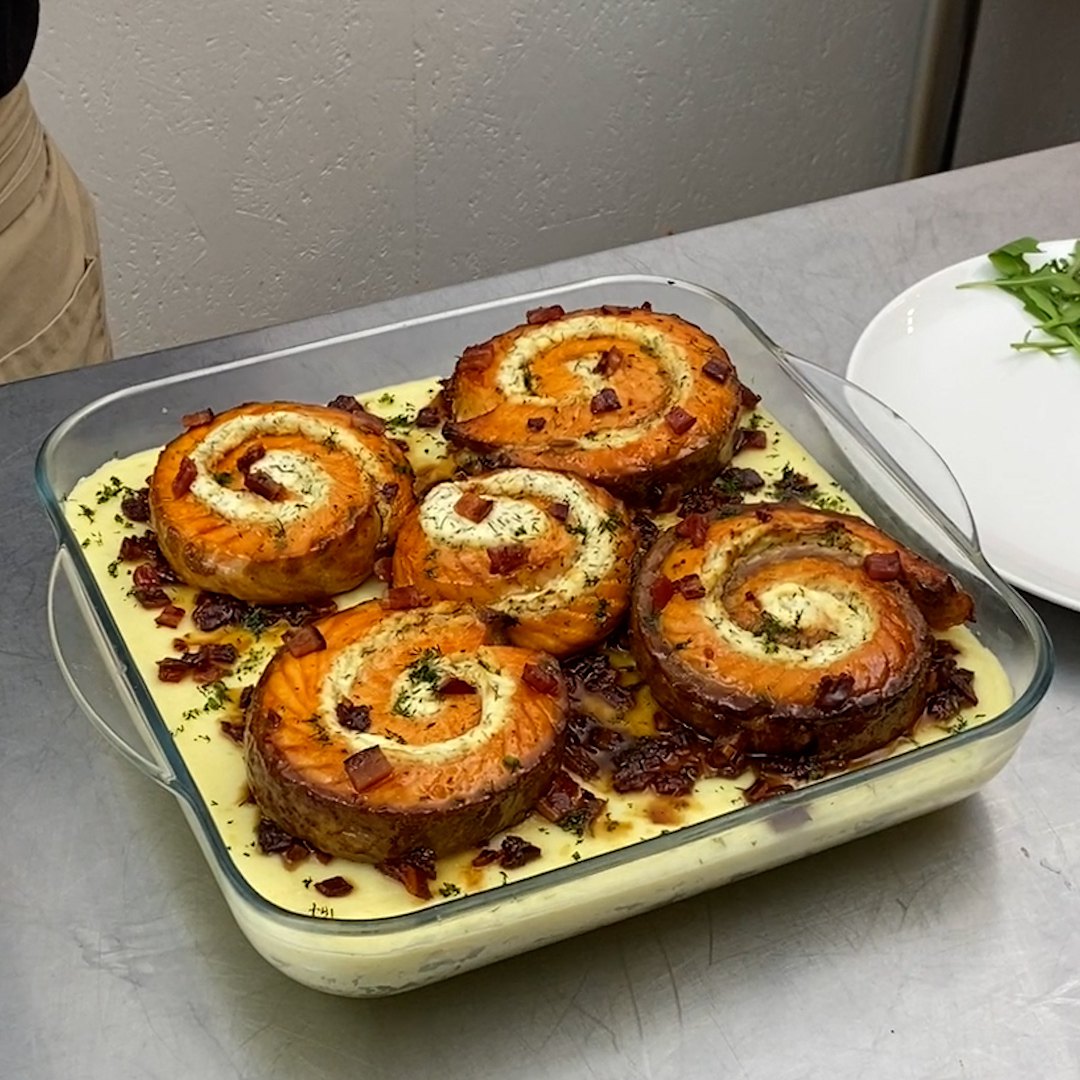 Candied Bacon Salmon
A spiral of sweet and savory delight!
Total time: 30 minutes
Ingredients for 5 people
1 salmon fillet
8 oz cream cheese
1 tbsp dill
1 lemon, juice
Salt & pepper
2 tsp soy sauce
1/2 cup maple syrup
1 jalapeño
1/4 cup brown sugar
1 tsp ground ginger
Zest of one orange
1 garlic glove
Caramelized bacon
Kosher salt
Mashed potatoes
---
Tools
Plastic wrap
---
Step 1/4
Mix together cream cheese, dill, and lemon juice. Let chill. Remove the skin from the salmon, sprinkle with kosher salt and pepper, then cover with baking paper. Let chill. Remove any excess salt and pepper from the salmon, and cover with the cream cheese. Roll up the salmon steak and wrap in plastic wrap. Let chill.
Step 2/4
Heat the soy sauce, maple syrup, salt, diced jalapeño pepper, brown sugar, ginger and chopped garlic clove, then add the orange zest. Dice the slices of caramelized bacon, pour into the saucepan and let reduce to a thick sauce and pour into a bowl.
Step 3/4
Cut the rolled salmon into 5 slices, then remove the plastic wrap. Place them on a lined baking tray. Brush with bacon sauce and bake for 30 minutes at 350 °F.
Step 4/4
Place the mashed potatoes at the bottom of an baking dish, then cover with the caramelized bacon. Brush the salmon rolls again with more bacon sauce and arrange them on the mashed potatoes. Sprinkle with dill and more bacon. Enjoy with a salad!