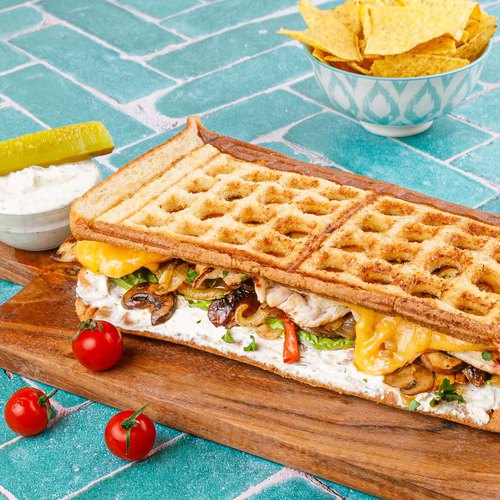 Picklelicious Club Sandwich
Picklelicious Club Sandwich! This recipe is a big dill 😁🥒🥪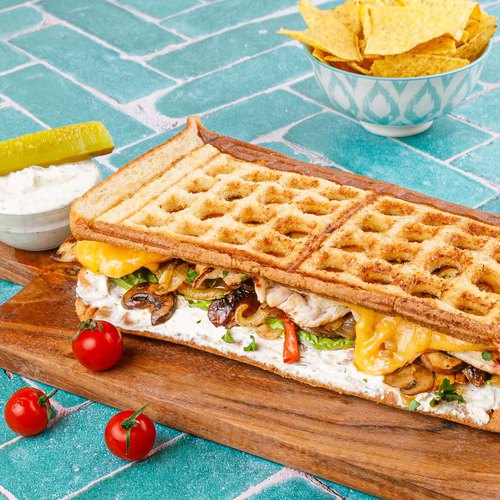 ---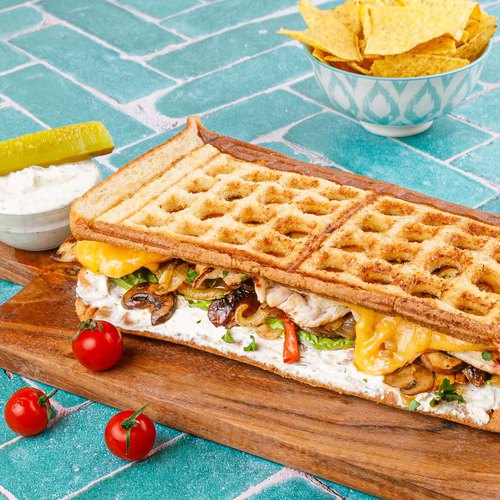 ---
Total time: 30 minutes
Cook time: 30 minutes
Ingredients for 2 people
2 jars of dill pickles
10 1/2 oz of cream cheese
1 tbsp of dill
2 tsp of garlic powder
1 tsp of black pepper
1 package of ranch seasoning
1 shredded dill pickle
2 slices of texas toast
1 cup of butter
2 chicken breasts
Parsley
1 dill pickle juice in jar
1 onion
1 red bell pepper
1 yellow bell pepper
4 mushrooms
5 slices of bacon
Lettuce
4 slices of tomato
---
Tools
Pickle jar
Waffle maker
Apple corer
---
Step 1/4
Take a full loaf of texas toast bread and cut it longways to have double sized slices. Dip them completely in melted butter then place them one at a time in a waffle maker to get nicely colored toasts. Cut holes out in every square with a small apple corer.
Step 2/4
Empty the pickle jar separating the juice and the pickles (leaving a tablespoon of pickle juice and a couple pickles in jar). Take 2 chicken breasts and slice them thinly. Place them in a jar with only pickle juice about halfway full. Add the chicken then add a packet of ranch seasoning. Close and shake well. Allow to marinate 3 hours in the fridge. Remove from the fridge and grill the chicken.
Step 3/4
Precook the onions, mushrooms and bell peppers. Season with salt, pepper and butter. Fry some bacon and set aside with the veggies.
Step 4/4
Mix cream cheese, garlic sauce and dill in a bowl to make a sauce. Spread dill sauce all over the bottom bread slice. Add salad, tomatoes, veggies, chicken, bacon, melted cheddar, parsley and top off with the bread with the holes in it. Enjoy!