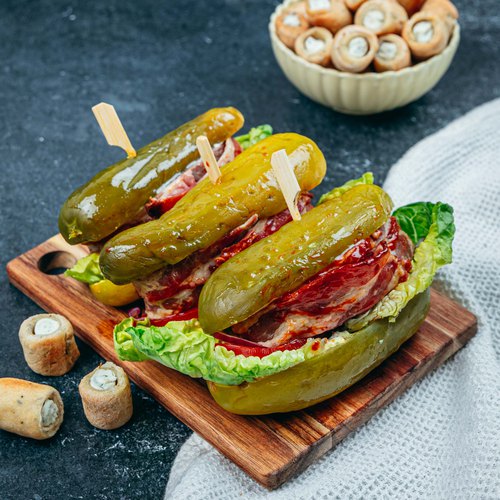 Cheese & Steak Stuffed Pickles
Cheese & Steak Stuffed Pickles! Served with homemade crackers 😁🥒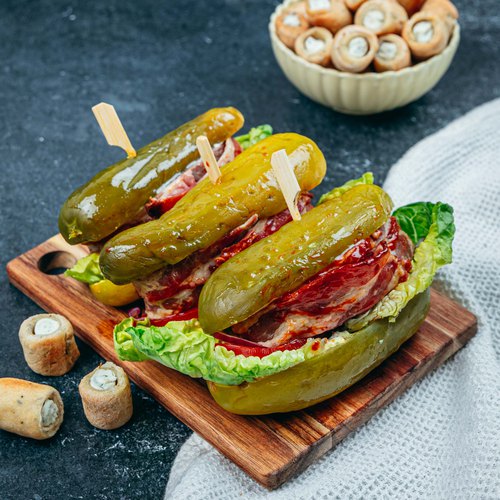 ---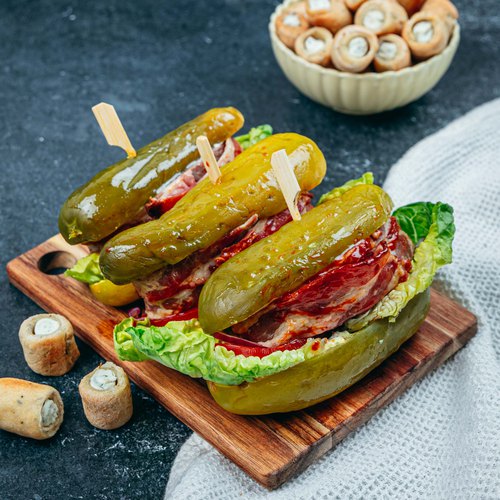 ---
Total time: 50 minutes
Prep time: 10 minutes, Cook time: 40 minutes
Ingredients for 5 people
5 pickles
7 oz of cream cheese
Dill
Salt & pepper
18 oz of flank steak
4 oz of mozzarella
Oregano
21 slices of bacon
1 1/4 cups of flour
0.4 cup of water
Herbes de provence
Olive oil
10 leaves of lettuce
1/2 tomato
1/2 onion
---
Tools
Kitchen twine
---
Step 1/4
Coat the bacon in the pickle brine. Place the bacon slices on a square of parchment paper. Add the flank steak on top followed by the mozzarella. Sprinkle with oregano and olive oil. Wrap the bacon around everything and bake in the oven 25 minutes at 350°F.
Step 2/4
Mix the flour, herbes de Provence and water together until you obtain a smooth cracker dough. Roll out into a square. Place small metal tubes on top and cut out stripes to coat them. Secure with kitchen twine and bake until golden.
Step 3/4
In a bowl mix cream cheese, dill, salt and some chopped pickles. Cut the pickles in 2 lengthwise and hollow out the insides. Stuff the pickles with the cream cheese mixture.
Step 4/4
Add chopped onion, sliced tomato and lettuce to each stuffed pickle. Add a slice of steak and another pickle on top to make sandwiches. Secure with a toothpick. Cut the crackers into small pieces and pipe with remaining cream cheese mixture. Serve and enjoy!