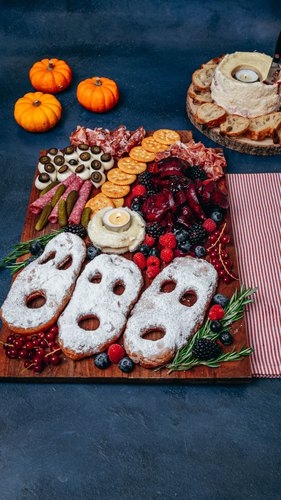 Spooky Halloween Cheese Board
Spooky Halloween Cheese Board! It's cheesy but spooky 🎃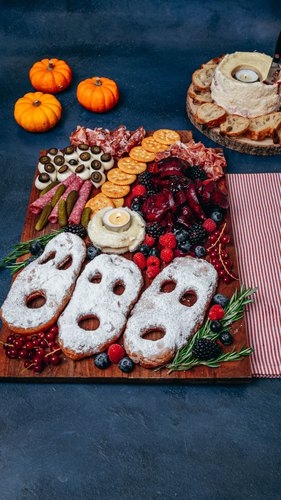 ---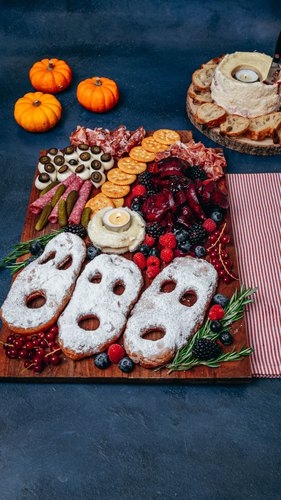 ---
Total time: 1 hour
Prep time: 1 hour
Ingredients for 6 people
3 wheels of camembert or brie
1 cup of cherry jam
1/2 cup of cream cheese
2 cups of grated parmesan
1 l of frying oil
6 biscuit dough
1/2 cup of powdered sugar
3 balls mozzarella
Red food coloring
1 cup of water
12 mini mozzarella balls
6 small pickles
6 black olives
1 cup of mixed berries
24 slices of charcuterie meats
Crackers
---
Step 1/5
Cut the off the top rinds of each wheel of brie. Cut out the center of one of the brie wheels with a small cookie cutter. Reserve the cut-out piece. Spread a thin layer of cherry jam over the other two wheels of brie. Stack the brie wheels on top of one another (with the one with the center cut out on top). Spread the cream cheese around the outside of the brie wheels. Spread the parmesan cheese over the cutting board and carefully roll the stack to coat. You can repeat the process with the smaller cut our piece of brie. Place the brie candle in the refrigerator to set.
Step 2/5
Roll out each biscuit dough circle into an oval. Cut out eyes and a mouth. Stretch the dough out slightly lengthwise, then fry each piece until golden. Remove from the oil and sprinkle with the powdered sugar.
Step 3/5
Add red food coloring to the water in a medium mixing bowl until you achieve a deep, blood red color. Cut a small wedge about 1/4-1/2" inch out of each large mozzarella ball. Cut the wedge into strips as shown in the video. Plunge all the remaining balls and strips into the red water. Allow them to sit for 5 minutes. Form the balls into heart-like shapes, then add the strips to the center poking out to resemble arteries. Add the remaining red cherry jam around the hearts.
Step 4/5
Cut each green olive in half, then slice each black olive into 3-4 rounds. Place a thinly sliced pickle round on top of each small mozzarella ball, then cover with a sliced black olive to resemble an eyeball.
Step 5/5
Plate the brie candle, the ghost donuts, the mozzarella eyeballs and the mozzarella hearts on a large cutting board. Add your favorite charcuterie meats and crackers. Serve and enjoy!