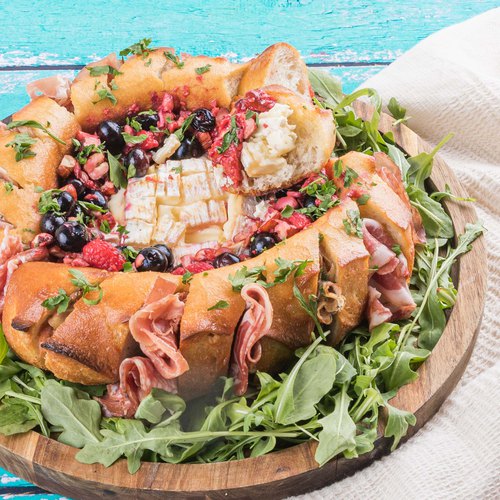 Honey Brie & Pancetta Baguette
Honey Brie & Pancetta Baguette! Your taste buds will thank you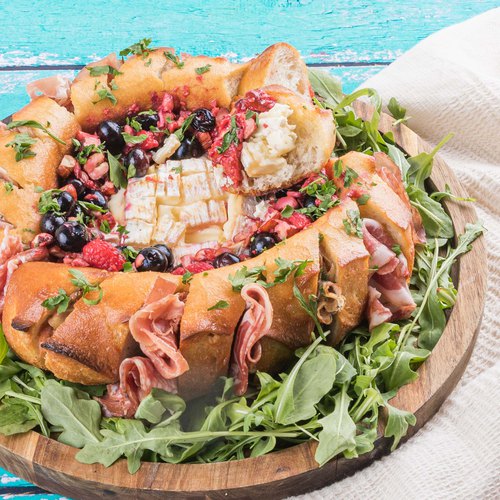 ---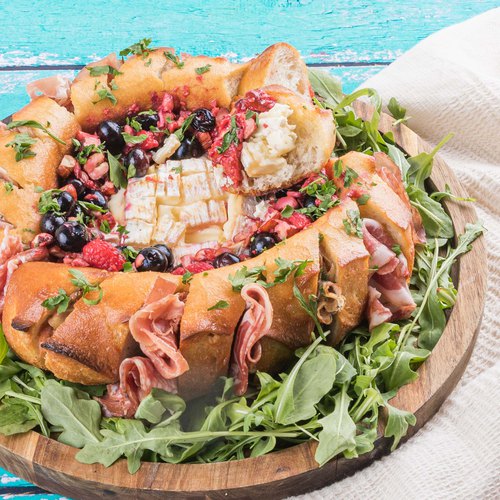 ---
Total time: 20 minutes
Prep time: 10 minutes, Cook time: 10 minutes
Ingredients for 6 people
8 oz of mixed berries
4 tbsp of honey
2 tbsp of parsley
Rosemary
6 slices of ham
1 wheel brie cheese
6 oz of candied bacon
3 tbsp of butter
1 baguette
Hazelnuts
---
Tools
Toothpick
parchment paper
---
Step 1/3
Create a crosshatch pattern on the top of the brie, then drizzle it with honey. Toast the brie face down (with the honey side facing the pan) until it becomes golden brown. Flip it over, add berries, hazelnuts, rosemary, and more honey to the pan. Remove from the heat and set aside.
Step 2/3
Cut slices into the baguette, being careful not to cut all the way through. Brush the slices with melted butter and parsley. Shape the baguette into a ring, place it on a baking sheet lined with parchment paper, and secure it with a toothpick. Garnish some of the baguette slices with candied bacon and bake until they become crispy.
Step 3/3
Fill the remaining interstices of the baguette with ham. Place the cooked berries and brie wheel in the center of the baguette ring. Sprinkle parsley on top, serve, and enjoy!