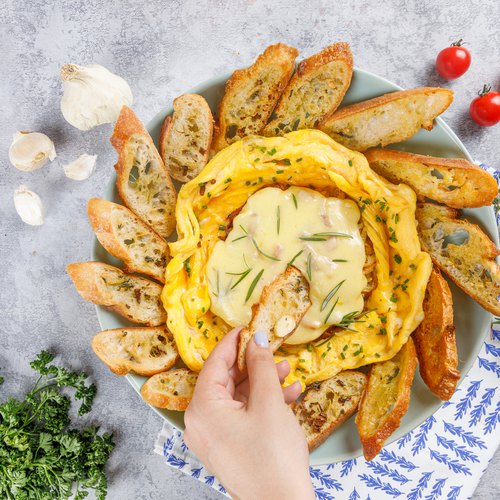 Best Nest Breakfast
Best Nest Breakfast! Time to get crackin' with this recipe 😁🍳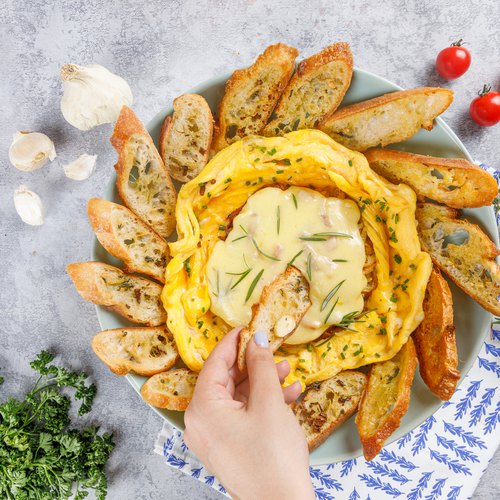 ---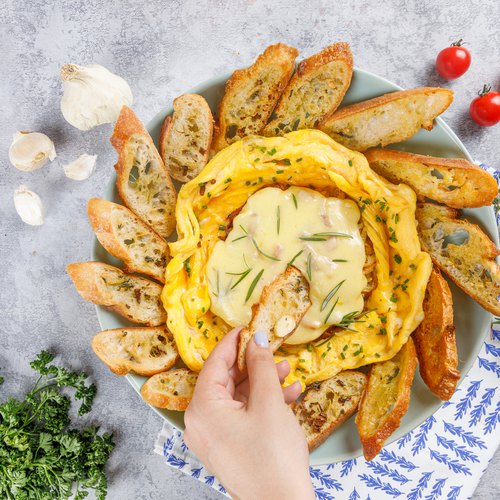 ---
Total time: 43 minutes
Prep time: 40 minutes, Cook time: 3 minutes
Ingredients for 4 people
8 slices of bread
5 cloves garlic
1.1 lbs of potatoes
2 tbsp of flour
1 oz of bacon bits
Butter
2 tbsp of chefclub vegetable seasoning
Thyme
Rosemary
Chives
Salt & pepper
---
Tools
Chopsticks
---
Step 1/3
Cut 2 tbsp of butter into cubes and 1 clove of garlic into slices. Place the slices of bread on a baking sheet, place a square of butter, 1 slice of garlic on each slice, sprinkle with thyme. Cut the top crust of the reblochon cheese, garnish with the garlic cloves, rosemary, bacon then cover the reblochon with the crust. Place the reblochon on the baking sheet with the bread slices then bake for 3 minutes at 350°F.
Step 2/3
Cut the potatoes into strips, align the strips then cut them into filament then place them in a salad bowl. Combine potatoes, flour, 1 egg, olive oil and remaining butter, sprinkle with Chefclub vegetable seasoning, salt and pepper. Fry 2 discs of potato preparation with butter, superimpose 2 discs then pour the beaten eggs around them in the pan. Sprinkle the eggs with chives, turn the potato preparation in the center using chopsticks to shape the omelet.
Step 3/3
Place the omelet with the potatoes on a plate. Place the slices of garlic bread around it, pour the reblochon cheese in the center of the omelet and enjoy!