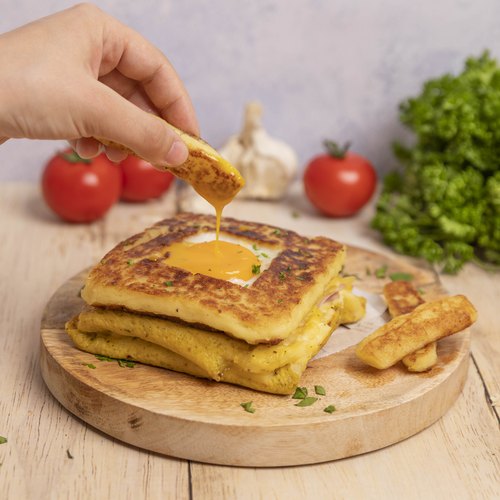 Omelette Breakfast Sliders
Omelette Breakfast Sliders! Loaded omelette patties that don't even need bread! 🌞🍳😋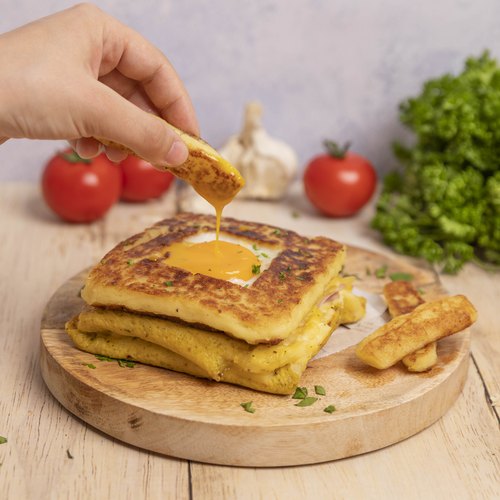 ---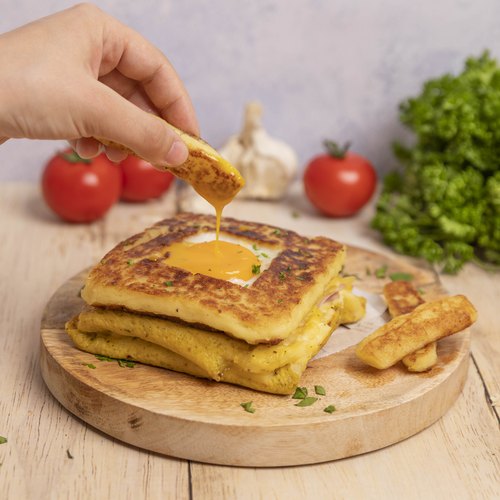 ---
Total time: 1 hour 55 minutes
Prep time: 45 minutes, Cook time: 30 minutes, Rest time: 40 minutes
Ingredients for 3 people
1 3/4 lbs of potatoes
3/4 cup of cornstarch
1/4 cup of butter
0.4 cup of heavy cream
Nutmeg
Salt & pepper
8 egg
Chefclub egg spice mix
6 slices of emmental cheese
Salad
Cherry tomatoes
Chefclub italian spice mix
Parsley
---
Step 1/3
Cook the potatoes in water and mash them. Mix the mashed potatoes with the cornstarch, butter, cream, nutmeg, salt and pepper. Spread in a dish, unmold it and cut in 6 parts.Take 3 squares and cut in cubes (reserve the middle square). Cut the other 3 squares in 2 and spread on top of the rest.
Step 2/3
In a pan cook 2 eggs with the chefclub egg spices and place the 2 squares of mashed potatoes, close the omelet on the mashed potatoes. Add 2 slices of cheese and 2 slices of ham then close together.
Step 3/3
In a frying pan with a little oil, cook the square with the hole in the middle and place an egg inside. When the egg is well cooked, place the square on the omelet. Serve with salad and cherry tomatoes. Sprinkle with parsley and enjoy!