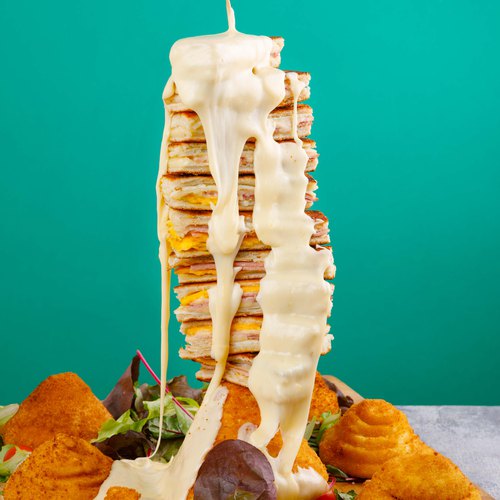 Ham & Cheese Fondue
Ham & Cheese Fondue! The perfect dish to warm you from the inside out 🥪🧀❄️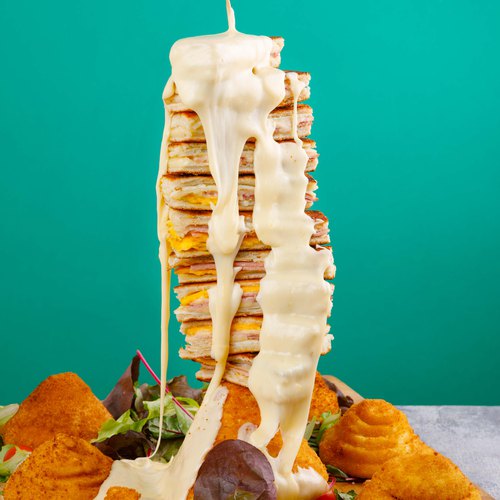 ---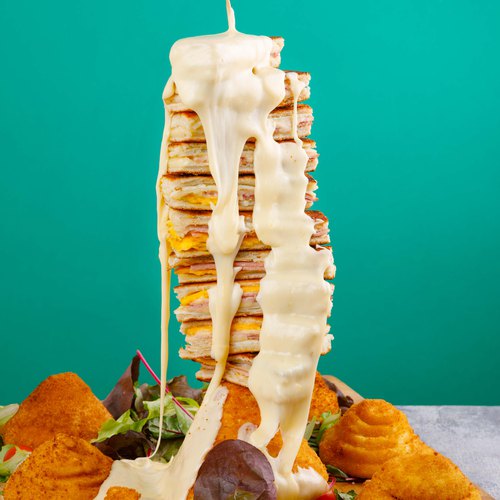 ---
Total time: 2 hours 25 minutes
Prep time: 50 minutes, Cook time: 35 minutes, Rest time: 1 hour
Ingredients for 4 people
4 egg
6 slices of bread
2 tbsp of butter
4 slices of ham
4 slices of emmental cheese
3/5 lb of potatoes
4/5 cup of flour
1 cup of breadcrumbs
Oil
Parsley
3 1/2 oz of grated cheese
7 oz of gruyere cheese
0.4 cup of white wine
Salad
Cherry tomatoes
---
Tools
Aluminum foil
Piping bag
Skewers
Martini glasses
---
Step 1/4
Place skewers on the griddle to form a rectangle. Crack 3 eggs, separate the whites from the yolks and place the egg yolks on the griddle. Pierce the egg yolks and cover them with glasses, then pour in the egg whites to fill the entire rectangle and remove the glasses. Butter the slices of bread, flatten them and place them on the eggs before separating them in two and turning them over with a spatula. Add the slices of emmental, the slices of ham and close the two parts to obtain a sandwich.
Step 2/4
Place the sandwich on a cutting board, cut it into slices and skewer them on a skewer. Fill martini glasses with aluminum foil to form cones. Peel the potatoes, cook them in a pot of boiling water and mash them. Place the mashed potatoes in a piping bag, cut the end and cover the aluminum cones with mashed potatoes to obtain 7 small spirals and 1 large spiral. Reserve for 1 hour in the freezer.
Step 3/4
Pour flour, a beaten egg and breadcrumbs into separate plates. Take the mashed potato cones. Roll them in the flour, then in the eggs and in the breadcrumbs before frying them in a pan of hot oil. Unmold. Mix remaining mashed potatoes with parsley and garnish the cones.
Step 4/4
Melt the grated cheese, the gruyere with the white wine in a saucepan. Serve the spirals on a bed of salad, add the cherry tomatoes, then plant the sandwich skewer in the large spiral in the center. Pour the melted cheese over the sandwiches, serve and enjoy!