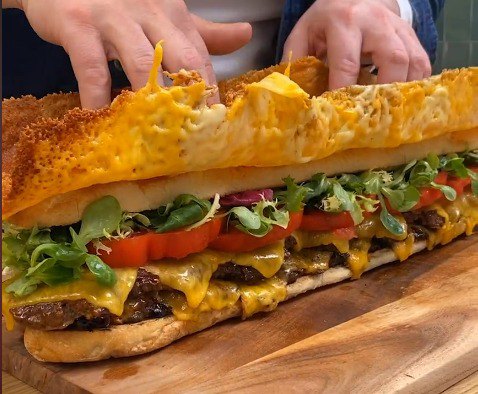 Baguette Sub Sandwich
Baguette Sub Sandwich! With a serving of French Fries 🥖🤩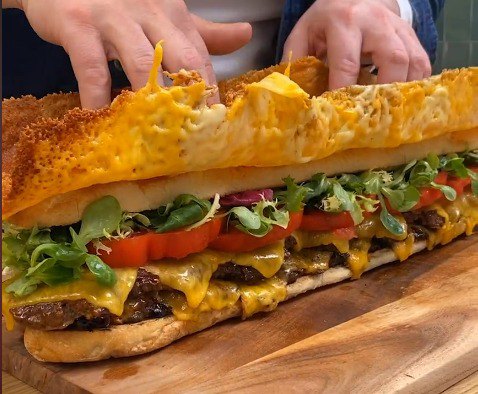 ---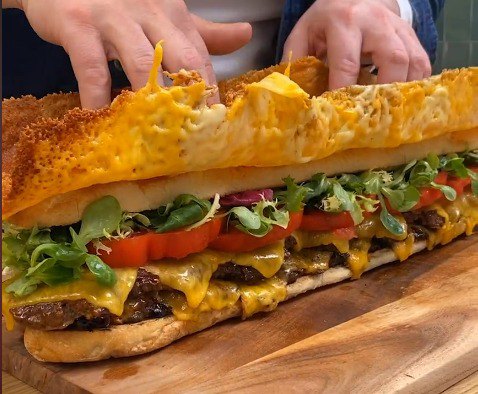 ---
Total time: 30 minutes
Cook time: 30 minutes
Ingredients for 6 people
1 baguette
2 lbs of ground beef
12 slices of cheddar
6 slices of gouda
4 cups of mashed potatoes
3 egg
6 tbsp of cornstarch
Vegetable oil
---
Step 1/3
Take the left over mashed potatoes and combine with the cornstarch and eggs. Mix into a thick puree. You will then pipe into hot oil at 350°F to make French fries. Set aside.
Step 2/3
For your burger, slice the baguette into two longways and grill the inside of each. Place your small hamburger balls on the plancha in a row and then smash down to create 1 line. Turn over, add cheese and then place on your bottom half of the baguette when done. Repeat once more.
Step 3/3
Take the rest of your slices of cheddar and gouda and form a rectangle on your cooking surface. Place the top piece of bread upside down on top. Once the cheese has caramelised on top, carefully remove and place on coffee cups to let set. After, add your toppings to the burger along with the top "cheese bun" and the fries inside. Serve and enjoy!