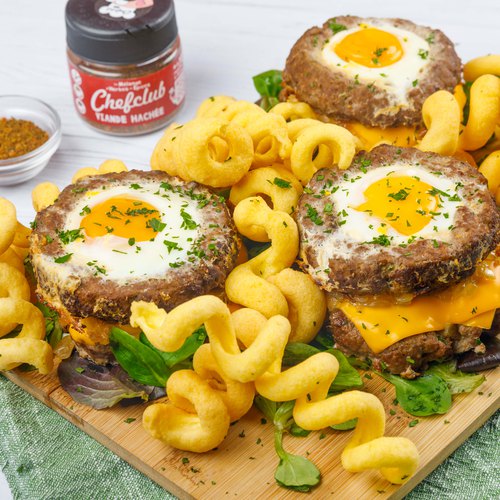 Wonder Whirl Fries & Steak
Wonder Whirl Fries & Steak! Every day is fryday with this recipe 😎🍟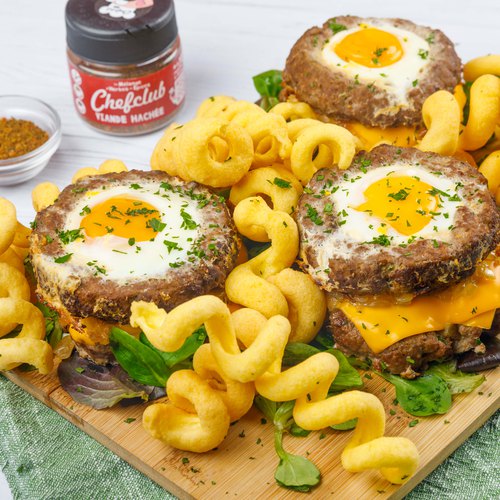 ---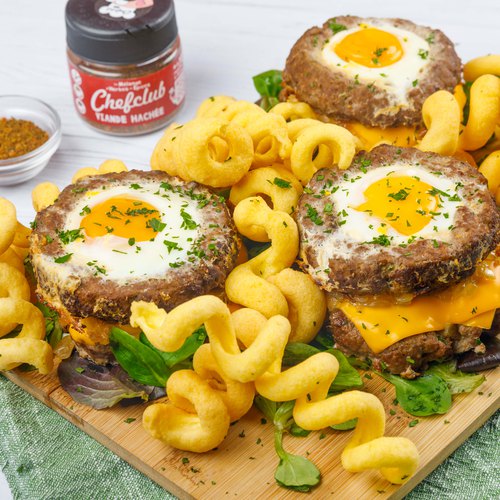 ---
Total time: 40 minutes
Prep time: 40 minutes
Ingredients for 3 people
1 1/2 cups of mashed potatoes
1 1/2 tbsp of butter
0.4 cup of milk
1 tbsp of sour cream
1.3 lbs of ground beef
4 tsp of chefclub ground beef spice mix
3 eggs
3 slices of cheddar
1 cup of caramalized onions
1 pinch of espelette pepper
Vegetable oil
Parsley
Salt & pepper
---
Tools
Ramekins
---
Step 1/3
Peel and cut the potatoes into pieces. Cook them in 1 liter of salted water then drain them. Mash the potatoes with 1.5 tbsp of butter and mix them with milk until you get a smooth texture. Add the sour cream. Set aside.
Step 2/3
Place the ground beef in a piping bag. Butter the plancha and place the ramekins on the plancha. Pipe a circle of ground beef around the ramekins. Form 3 balls with the remaining ground beef and place them on the plancha to cook them. Flatten them with a potato masher. Sprinkle with Chefclub ground beef seasoning. Turn the ramekins and the meat to cook on the other side. Cook an egg in the center of each ring of ground beef.
Step 3/3
Place a slice of cheddar, 1 tablespoon of caramelized onions on each patty. Layer the ground meat rings and the patties. Season with salt and pepper. Pipe spirals of mashed potatoes around a wooden spoon handle. Fry the spirals in hot oil until golden. Season with salt, pepper and espelette pepper. Place the fries and patties on a plate. Add ketchup in the center and sprinkle with parsley. Enjoy!