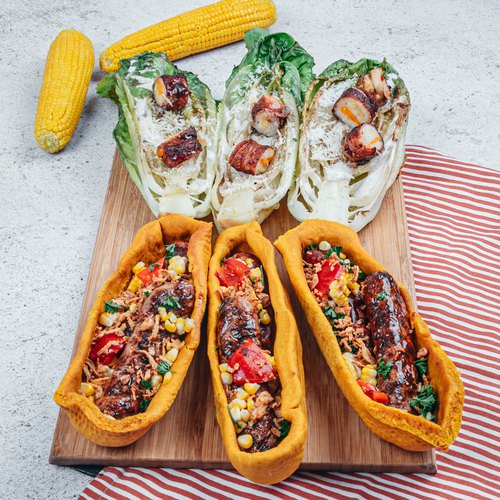 Homemade Corn Dogs
Homemade Corn Dogs! With grilled salad & bacon 🤩🌽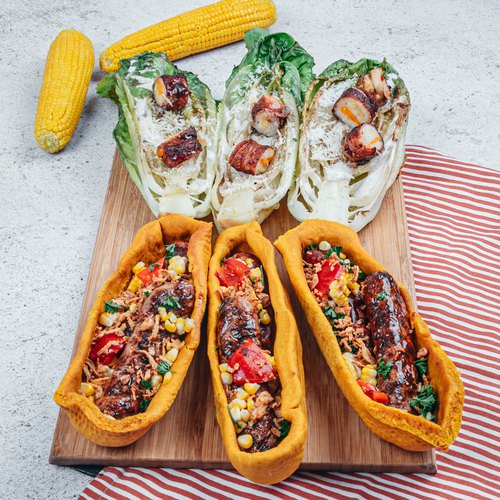 ---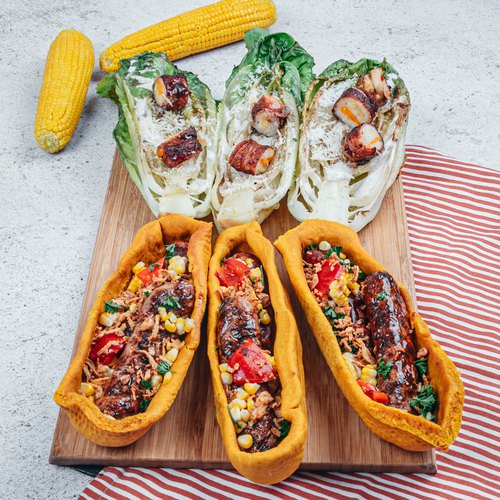 ---
Total time: 30 minutes
Cook time: 30 minutes
Ingredients for 6 people
3 colored bread doughs
3 corn on the cobs
6 sausages
2 lettuce
1 bottle of caesar dressing
1 cup of parmesan
8 slices of bacon
4 slices of cheddar
2 slices of bread
Grilled peppers
2 tbsp of fried onions
Parsley
Olive oil
---
Tools
Rolling pin or metal rod
---
Step 1/4
Roll out the bread doughs and then use one of the pieces of corn to imprint the outside kernels. Place on top of the pieces of corn and bake for 15 minutes at 350°F.
Step 2/4
Grill the sausages and then cook the lettuce with a drizzle of olive oil along with salt and pepper. Once the lettuce is grilled one 1 side, place the other side in ice cold water to stop it from wilting.
Step 3/4
Take the flattened bread and slice into 3. Add the slices of cheddar to make a double decker sandwich. Wrap in the bacon and sear the sides in a pan.
Step 4/4
Assemble the corn dogs by placing the sausages inside of the corn buns along with the corn, peppers, fried onions and parsley. Drizzle the lettuce with caesar dressing and parmesan. Add the bacon rolls and enjoy!