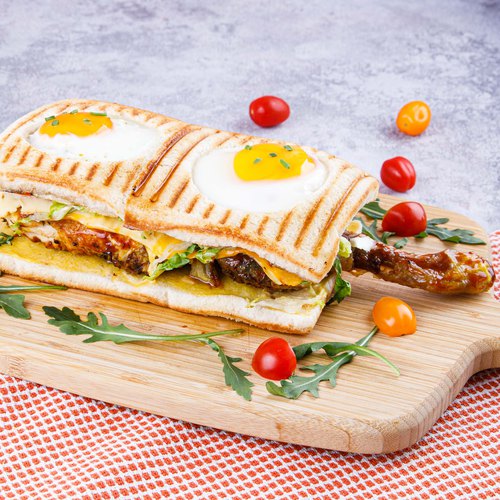 The Big Club Sandwich
The Big Club Sandwich! All of your favorite flavors in a perfect bite 🥪🍗 😋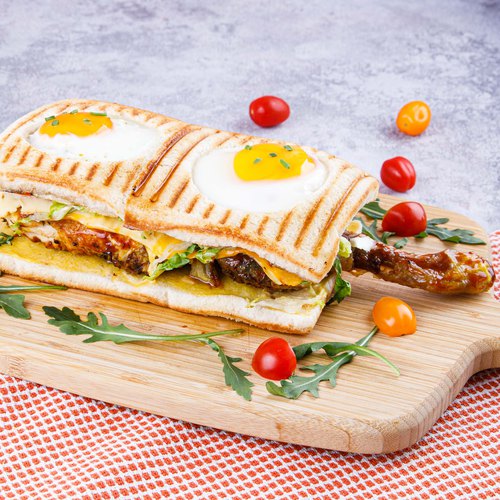 ---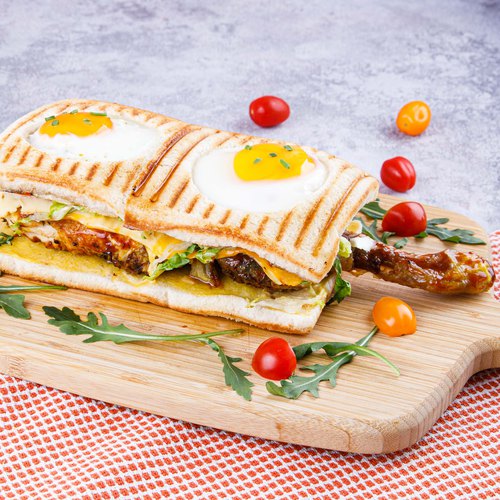 ---
Total time: 55 minutes
Prep time: 40 minutes, Cook time: 15 minutes
Ingredients for 4 people
1 onion
0.2 cup of olive oil
4/5 cup of balsamic vinegar
2 tbsp of butter
1 whole chicken
2 tbsp of chefclub chicken spice mix
4 slices of cheddar
4 slices of emmental cheese
8 slices of bread
4 eggs
4 slices of bacon
1 tomato
4 tbsp of mayonnaise
Thyme
Salad
---
Tools
Panini maker
Parchement paper
---
Step 1/3
Cut the onion and cook in a frying pan. Add the balsamic vinegar halfway through cooking and mix. Simmer over low heat and sprinkle with brown sugar to caramelize. Place the thyme in the butter and butter the panini maker. Butter the whole boneless chicken and sprinkle the inside of the chicken with Chefclub chicken spice mix. Place on a baking sheet with the spiced side facing you. Garnish it with the thyme butter and the caramelized onions. Fold the chicken over itself and place it on the panini maker and cook to brown the skin. Place the chicken on a baking tray and open it slightly. Bake 15 to 350°F and cut it in 2 when it comes out of the oven.
Step 2/3
Lightly overlap 4 slices of cheddar and emmental (alternating them). Repeat the process once more and set them aside on a sheet of parchment paper. Overlap the end of the slices of bread 2 by 2, flatten the ends to seal the 2 slices together. Cut a circle out of 2 slices of sandwich bread superimposed using a glass. Place them on 2 other slices of sandwich bread and toast them on the panini machine. Repeat the action once more. Place the slices of toasted bread with two circles on the panini machine. Cook the eggs in each circle, repeat the process for the other slices with a circle.
Step 3/3
Cook the bacon on the panini machine and cut the tomato into strips. Arrange the slices of emmental and cheddar on parchment paper on the panini machine. Place the bacon on top and let the cheese melt. Spread the mayonnaise on the slices of bread. Place the bacon and melted cheese on the slices of bread. Place half the chicken, lettuce, tomato and brush with mayonnaise. Place the sandwich slices with the eggs on top. Repeat the action for the second sandwich and place them on a plate, sprinkle them with chives and enjoy!