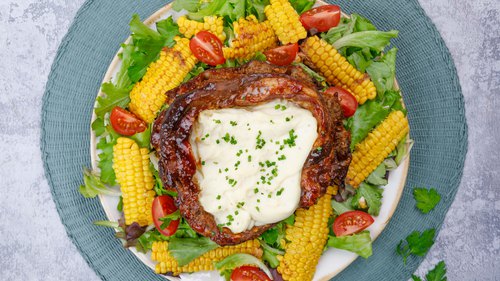 Super Bowl Crown of Ribs
Super Bowl Crown of Ribs! Don't drop the ball, try this recipe now 🏈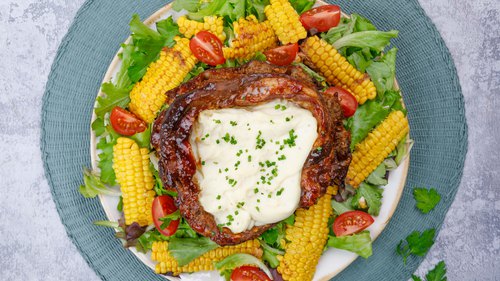 ---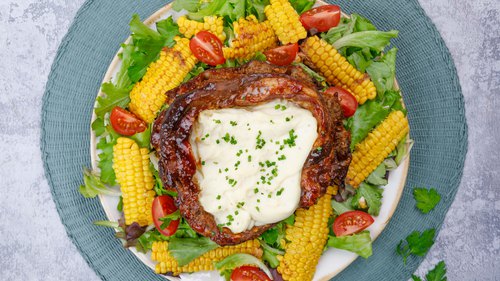 ---
Total time: 5 hours
Cook time: 5 hours
Ingredients for 3 people
2.2 lbs of pork ribs
Corn
1 cup of butter
4 tbsp of chefclub bbq spice mix
0.4 cup of honey
1 cup of salad
Chives
2 cups of mashed potatoes
4/5 cup of white cheddar cheese
0.4 cup of cheddar cheese
1 cloves of clove garlic
6 cherry tomatoes
0.4 cup of heavy cream
---
Tools
Kitchen twine
Skewers
---
Step 1/3
Take pork ribs and spread them on a board. Pierce the corn on the cob with three skewers and pass them through the melted butter. Place them in the middle of the pork ribs and roll them up to encase them. Remove the skewers then put the roll of pork ribs upright. Bind together with kitchen twine. Season with salt and pepper then pan-fry with butter to sear the meat. Once the meat is cooked put it in a baking pan. Prepare the sauce by combining the Chefclub BBQ mix and honey. Pour the sauce over the ribs. Cover with foil and bake for five hours at 320°F.
Step 2/3
Add the white Cheddar and regular Cheddar to the mashed potatoes. Create a hole in the middle and pour in the cream, the butter and the chopped garlic. Mix well. Pour into the hole of the ribs when they are fully baked.
Step 3/3
Place the spare ribs on a plate with the lettuce and cherry tomatoes. Remove the corn on the cob and place on the plate. Sprinkle with chives. Serve and enjoy!