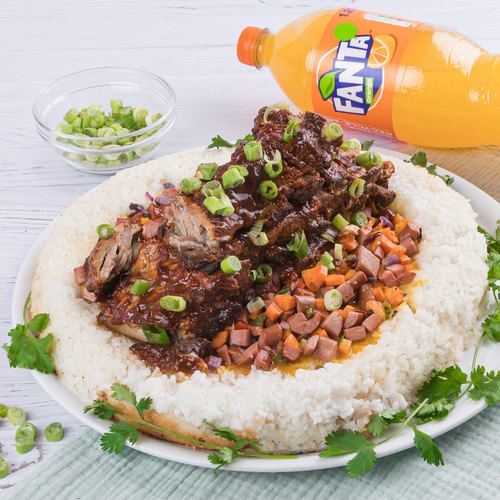 BBQ Ribs & Fried Rice
Crispy & tender 🙂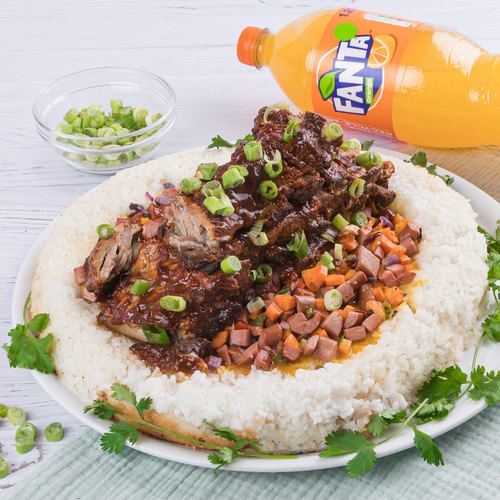 ---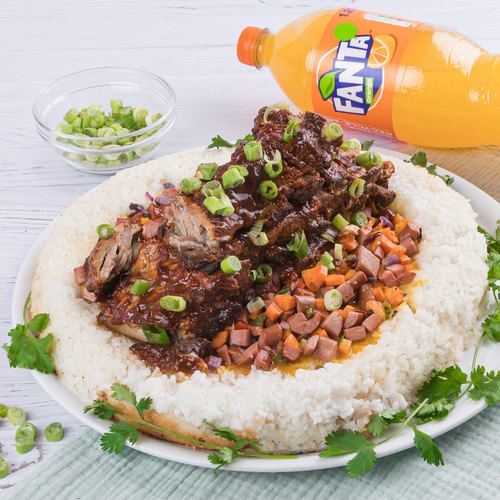 ---
Total time: 4 hours
Cook time: 4 hours
Ingredients for 4 people
1 pork ribs
1 l of orange soda
Salt & pepper
1/4 cup of brown sugar
1 tbsp of garlic powder
1 cup of fried rice
1 cup of diced ham
1 cup of carrots, diced
1 cup of red onions
1 cup of bell peppers
1 egg
1 cup of bbq sauce
1 tbsp of spring onion
1 tsp of chilies
Olive oil
---
Tools
Aluminum foil
---
Step 1/4
Take a rack of ribs and place it in a container. Pour the orange soft drink and allow to marinate in the fridge overnight.
Step 2/4
Preheat oven to 275°F. Remove the ribs from the container and place on a piece of foil. Season with salt, chipotle powder, garlic powder, brown sugar and BBQ sauce. Wrap the foil around the ribs and cook 3½ hours.
Step 3/4
Take some cooked rice and place on the plancha. Keep the rice in a circular shape. Make an indentation in the center and place the egg yolk. Drizzle some olive oil around the rice. Add the ham, bell peppers, carrots and red onions around the rice. Allow to cook and place the ingredients in the rice indentation.
Step 4/4
Place the rice on a plate and add the ribs on top. Sprinkle with green onions and chilies. Enjoy!