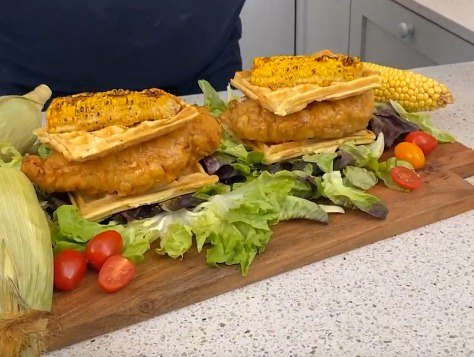 Finger Lickin' Chicken & Cornbread
Finger Lickin' Chicken & Cornbread! Delicious to the last bite 😉🐔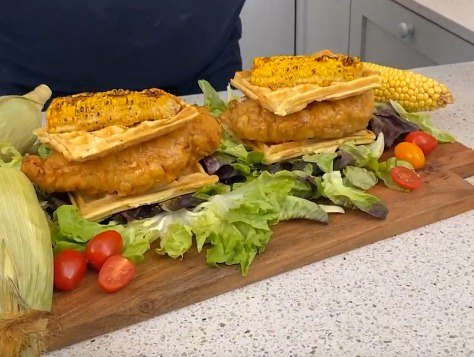 ---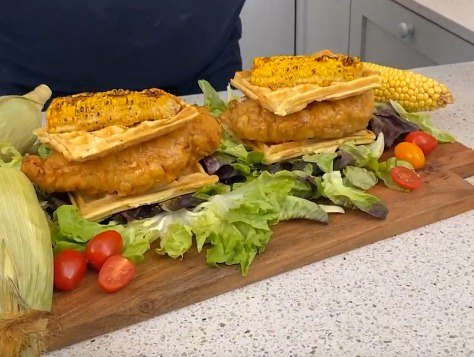 ---
Total time: 30 minutes
Cook time: 30 minutes
Ingredients for 6 people
2 chicken breasts
1/2 cup of honey
Tabasco
3 tbsp of spices
8 slices of bacon
4 cups of waffle batter
Corn
1 cup of buttermilk
1/4 cup of cornstarch
Frying oil
1 cup of flour
Orange juice
---
Tools
Waffle iron
Chopsticks
---
Step 1/3
Heat the waffle iron and add the corn kernels and waffle batter. Cook until golden brown and set aside.
Step 2/3
Take the bacon and wrap around chopsticks. Bake in the oven until crispy. Slice the chicken breasts lengthwis and open like a book. Add in the honey, tabaso and spices to the center. Close the chicken breasts. In 2 separate bowls add the buttermilk in one and the flour and cornstarch in the other. Pass the chicken in the buttermilk followed by the flour.
Step 3/3
Fry the chicken until cooked on the inside at 165°F. Remove from hot oil and season with salt. Assemble the sandwiches on a plate. Serve with orange juice and enjoy!