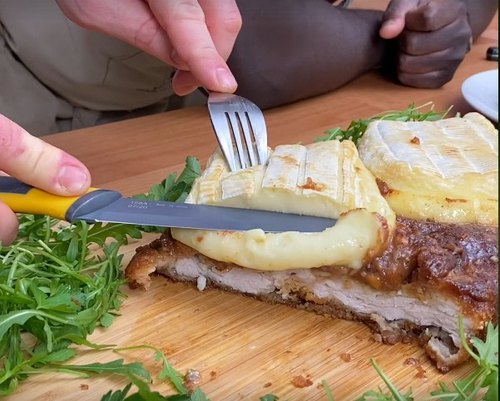 Sweet Peanut Crusted Turkey
Sweet Peanut Crusted Turkey! The perfect balance of sweet and salty 😋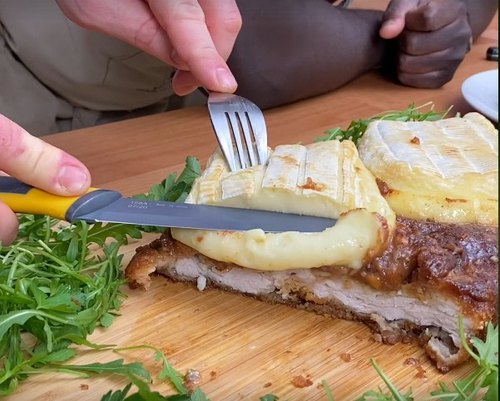 ---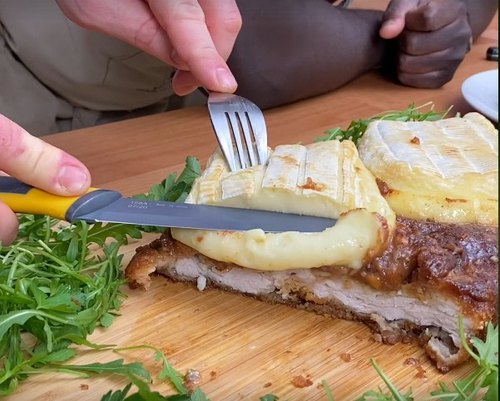 ---
Total time: 40 minutes
Prep time: 30 minutes, Cook time: 10 minutes
Ingredients for 2 people
1 lb of turkey
5 slices of bacon
1/2 cup of breadcrumbs
1 cup of peanuts
1 cup of flour
1 egg
1/4 cup of buttermilk
1 jalapeño
1 tbsp of olive oil
1 tbsp of honey
3/4 cup of peanut butter
2 tbsp of soy sauce
1/2 cup of strawberry jelly
Salt & pepper
2 cups of water
2 wheels of camembert or brie
Salad
---
Tools
parchment paper
Food processor
---
Step 1/3
Flatten the turkey between 2 sheets of parchment paper until ¼ inch in thickness. Set aside. In a food processor blend cooked bacon, breadcrumbs and peanuts. Add to a baking tray. Mix buttermilk and egg together. Coat the turkey in the flour followed by the egg and finally the breadcrumb mixture. Fry in hot oil until golden brown.
Step 2/3
In a pan add the olive oil and jalapeño. Cook for 1 minute. Add the honey, peanut butter, soy sauce, strawberry jelly, salt and pepper. Mix and add water to thin out. Reduce and allow to thicken. Add turkey to pan and coat with sauce.
Step 3/3
Add turkey to baking dish with brie on top. Bake in oven 10 minutes at 350°F. Serve with salad and enjoy!