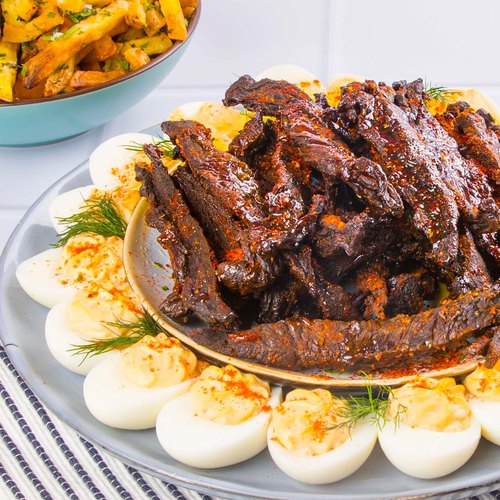 Beef Jerky & Deviled Eggs
Beef Jerky & Deviled Eggs! Feeling naughty? Try this recipe 😉😈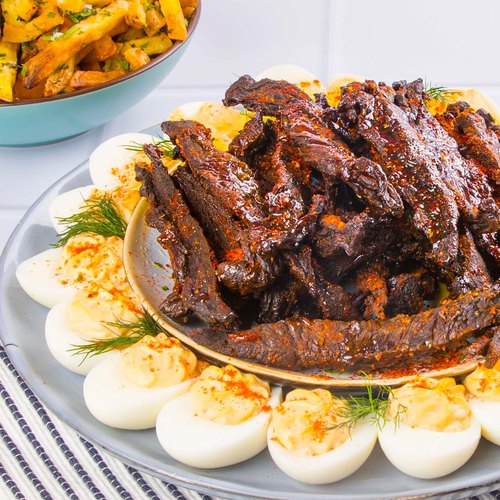 ---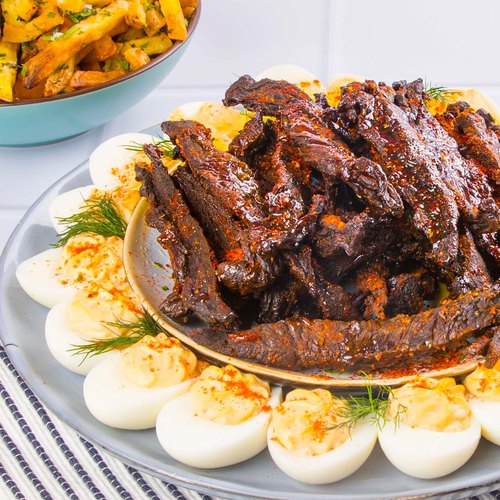 ---
Total time: 4 hours 40 minutes
Prep time: 10 minutes, Cook time: 4 hours 10 minutes, Rest time: 20 minutes
Ingredients for 6 people
1/2 cup of soy sauce
2 tbsp of worcestershire sauce
2 tsp of pepper
1 tsp of liquid smoke
1 tsp of onion powder
1 tbsp of paprika
15 egg
1/4 cup of mayonnaise
2 tbsp of mustard
1 1/2 tsp of red pepper flakes
1 tsp of garlic powder
2 tsp of agave syrup
Chives
---
Tools
Toothpicks
Piping bag
---
Step 1/4
In a bowl mix the soy sauce, worcestershire sauce, pepper, liquid smoke, onion powder, garlic powder, 1 tsp paprika, red pepper flakes and agave. Place in fridge.
Step 2/4
Place flank steak in freezer for 20 minutes. Cut steak into thin strips (1/8 inch ) separating them on a tray. Put them into freezer for another 5 minutes. Add 2-3 steak strips onto toothpick in a straight line and dip into marinade. Allow the strips to hang from a grill and bake 3-4 hours at 175°F.
Step 3/4
Bring water to boil and add 12-15 eggs for 10-12 minutes on high heat. Remove from heat and add to ice water. Peel off skin and cut eggs in half placing the egg yolks in a separate bowl.
Step 4/4
In the egg yolk bowl add mayonnaise, mustard, onion and garlic powder, sliced chilli peppers, salt and pepper to taste. Mix everything together until smooth. Add mixture to piping bag and pipe into the holes of the hard boiled eggs. Garnish with paprika and chives. Serve with jerky and enjoy!