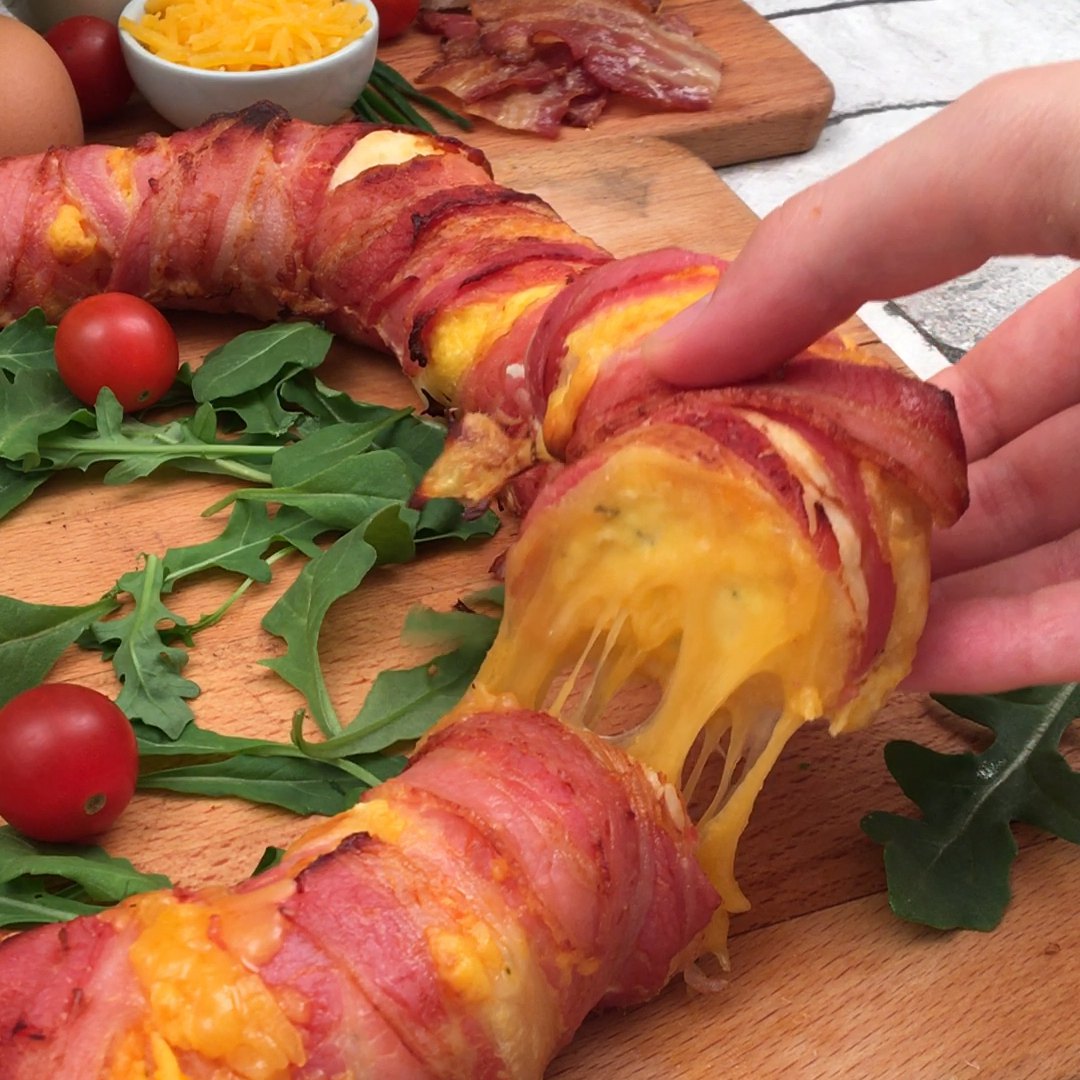 6 Bacon, Egg & Cheese Recipes
Pushing the limits of a Bodega classic. 🥓🍳🧀
Total time: 30 minutes
Ingredients for 6 people
Sandwich bread
Cheddar
Scrambled eggs
Bacon
Chives
Croissant
Grated cheddar
Parsley
Pizza dough
Hot sauce
Boiled eggs
Mayonnaise
Hot sauce
Chives
Paprika
Pepper
Mustard
Monterey Jack
Egg
Paprika
Dill
---
Tools
Piping bag
---
Step 1/6
Eggy Toast: Place a slice of sandwich bread in a hot pan, grill both sides then press down the center on one side creating a cavity. Place an egg in the cavity then puncture the egg yolk with a pin and fill with hot sauce. Place cheese all around the egg and on the toast, cover with a lid and cook until you've reached your desired egg doneness.
Step 2/6
BECroissant: Cut a croissant in half, place a fried egg on the bottom, then bacon slices, then cheese, place the top. Put in a pan and then place another pan onto to build an at home panani machine. Cook until cheese is melted. Enjoy.
Step 3/6
Bacon Breakfast Sushi: Make a woven bacon pattern then place into a pan, cook one side, then flip. Add scrambled eggs and cheese on top of bacon, roll the bacon to make a "sushi" shape. Place lid over and cook until cheese is melted. Enjoy.
Step 4/6
Giant Bagel BEC: Place puff pastry on a parchment-lined baking sheet. Cut the center, then line the edge with scrambled eggs, cheese and bacon. Take the cut puff pastry from the center and cover the edges making a circle that resembled a large bagel. Bake at 350 °F until golden brown, about 25 minutes.
Step 5/6
Cheesy Deviled Eggs: Make 6 boiled eggs. Cut in half, remove the yellows and mix with 3/4 cup mayonnaise, 2 tablespoons finely shredded Monterey Jack cheese, 2 tablespoons finely shredded Swiss cheese, 1 tablespoons minced chives, 1/8 teaspoon ground mustard, 1/8 teaspoon pepper, 2 ounces melted Velveeta. Once mixed, place in piping bag and pipe back into the egg whites. Then sprinkle with paprika, bacon bits, and chives. Serve.
Step 6/6
Bacon, Egg & Cheese Bread Box: In a square of unsliced sandwich bread, cut off the top then press down the center. Line the edges with cheddar cheese, then fill with scrambled eggs. Replace the top of the bread and wrap the whole thing in bacon. Bake until bacon is crispy on all sides. You can also cook in a pan!