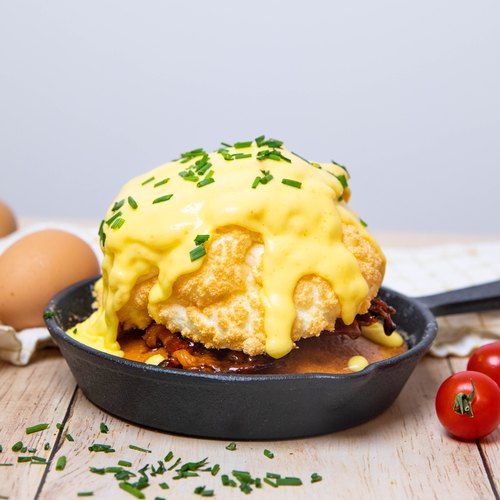 Cloud Egg Skillets
Like Eggs Benedict, but better 😍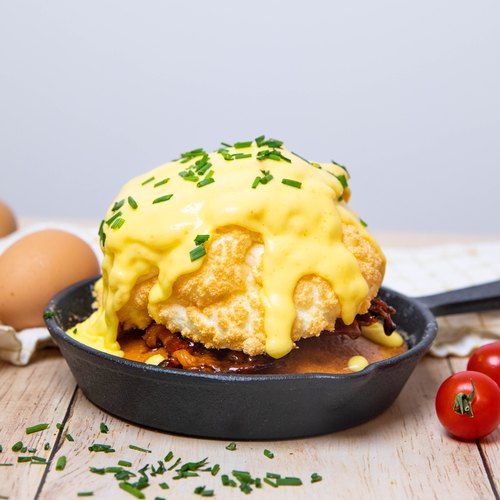 ---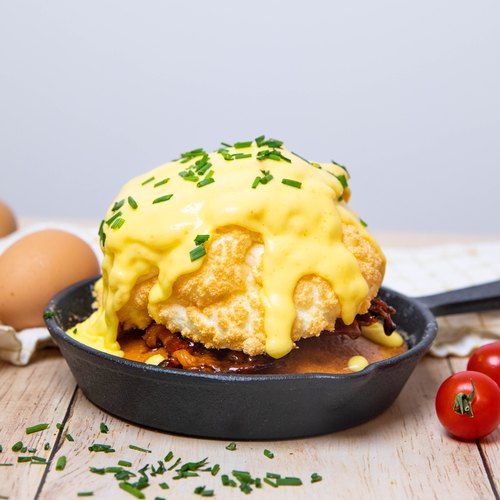 ---
Ingredients for 3 people
1 box of cornbread mix
12 slices of bacon
6 slices of cheddar
1/2 cup of coca-cola
6 eggs
1 tsp of white vinegar
1 tbsp of cornstarch
3 egg yolks
2 tsp of lemon juice
1 tsp of salt
1 cup of butter
chives
---
Tools
Mini cast iron skillets
Cooling rack
Electric mixer
Parchment paper
Blender or food processor
---
Step 1/4
Prepare the cornbread batter according to package instructions. Pour into greased cast iron skillets and bake according to package instructions.
Step 2/4
In a frying pan or an electric griddle, add three sections containing 4 slices of bacon each. Cover each section with two slices of cheddar and let cook until the sides of the cheese begin to caramelize. After, fold the bacon over to form a sandwich. Pour the Coca-Cola over the bacon sandwiches and turn down the heat to medium-low. Use the spatula to add the carmelized glaze to the top of the sandwich. Once cooked, set aside.
Step 3/4
Separate 6 egg whites from the yolks with the help of a cooling rack. Mix the egg whites with the vinegar and cornstarch using an electric mixer. Whip until fluffy, then place on a parchment lined baking sheet and form three large circles. Make an indent in the top of each dome and place 2 egg yolks inside. Bake in the oven for 10 minutes at 400 °F.
Step 4/4
Heat the butter in a saucepan until it is melted and frothing. In a blender mix the egg yolks, lemon juice, salt, and 2 tsp water. Slowly pour the butter into the blender while it is on. Blend until a homogeneous sauce has formed. Place the candied bacon & cheese squares on top of the cornbread skillets followed by the baked eggs. Drizzle with Hollandaise sauce and sprinkle with chives. Enjoy!