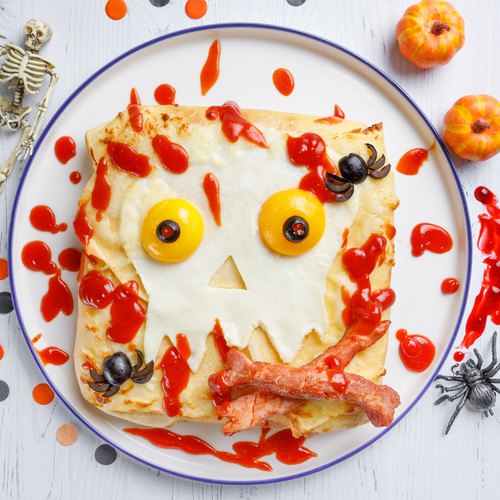 Zombie Breakfast Crepes
Terrifyingly Tasty 🧟‍♂️💀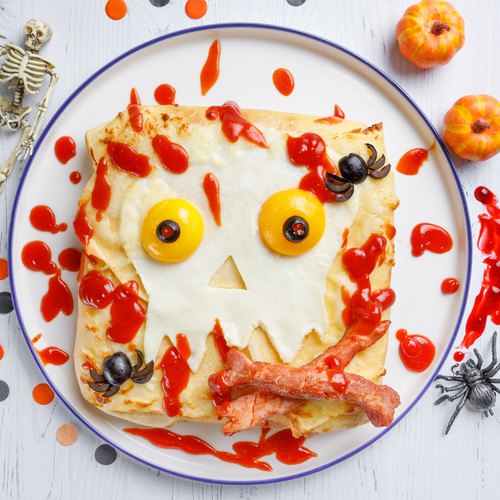 ---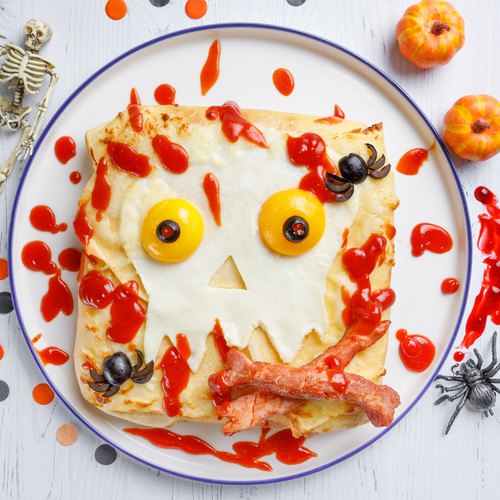 ---
Total time: 1 hour 8 minutes
Prep time: 25 minutes, Cook time: 13 minutes, Rest time: 30 minutes
Ingredients for 6 people
6 eggs
2 cups of flour
1 3/4 cups of milk
1 pinch of salt
1/4 cup of butter
1 thick slice of ham
7 slices of swiss cheese
1/4 cup of bechamel white sauce
1/3 cup of shredded mozzarella
black olives
ketchup
---
Tools
Square casserole dish
---
Step 1/4
For the crepe batter: combine the flour and salt in a bowl and form a well. Add 4 eggs and mix until the batter thickens. Pour in the milk little by little while continuing to mix. Melt the butter and pour it into the bowl. Let sit for 30 minutes in the fridge.
Step 2/4
Cut a teeth pattern onto one side of a thick piece of ham, then place 2 other ham slices on opposite sides of a frying pan (see video). Separate the egg whites from the yolks, pour the egg whites into the center of the hot pan, and let cook. Next, remove the 2 side pieces of ham and set aside for later, along with the cooked egg whites. Take the tooth-shaped piece and cut it into the shape of two bones. After, cook 5 crepes and line each side of the square baking dish with a crepe and place the final crepe in the center. Top the center of the dish with the cheese slices, the remaining diced ham, the béchamel sauce, and then cover with the crepes at each end. Bake for 10 minutes at 395 °F.
Step 3/4
Turn out the crepe casserole onto a baking sheet, place the ham bones on either side of the casserole, and add the egg white in the shape of a skull on top. Sprinkle the edges with shredded mozzarella, place the two egg yolks on the egg whites for eyes, and return to the oven to bake for 3 minutes at 350 °F.
Step 4/4
Place the casserole on a plate, cut out a triangle nose on the skull, cut a black olive in 2, and place one olive half on each egg yolk. Next, place the bones on the bottom corner of the casserole and create small spiders with the olives. Splash ketchup over the dish and enjoy!