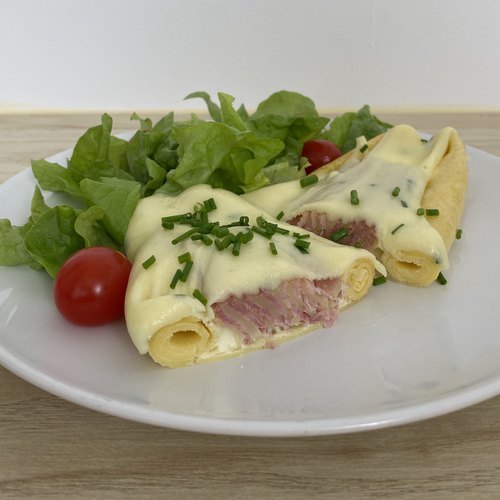 Ham & Cheese Crepe Pockets
A quick and cheesy revisit of your favorite pancake 😋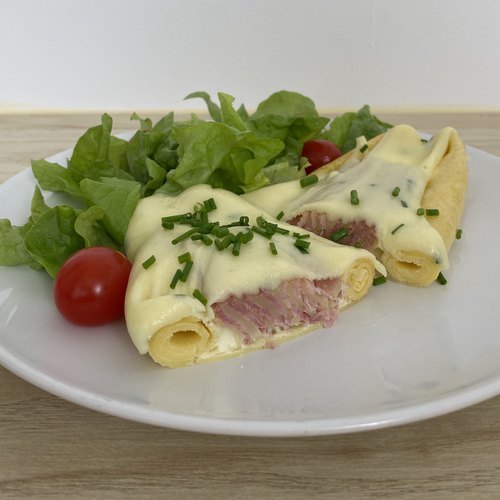 ---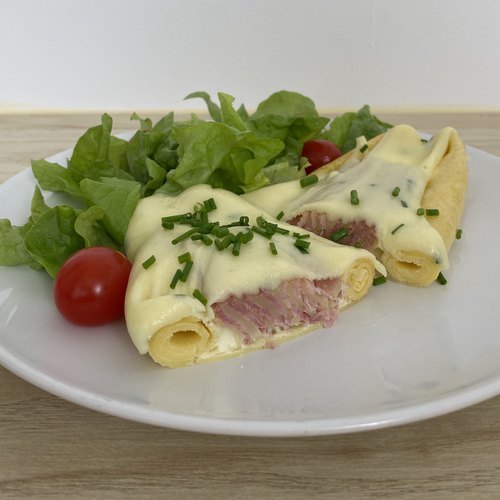 ---
Ingredients for 4 people
2 cups + 2 1/2 tbsp flour
2 tbsp of sugar
4 eggs
3 cups of milk
1/3 cup of butter
4 slices of ham
4 slices of swiss cheese
8 oz of brie cheese
---
Tools
Toothpicks
Parchement paper
Loaf pan
---
Step 1/4
Prepare the crepe batter: Mix 2 cups flour with the sugar, eggs, 2 cups milk, and 5 tbsp melted butter. Make 4 crepes and fold them into pockets as seen in the video using a toothpick to hold the ends in place. Place the pockets on a parchment lined baking sheet.
Step 2/4
Prepare the bechamel sauce: Melt the remaining butter in a saucepan. Add the remaining flour and mix well. Gradually add the remaining milk, stirring constantly until the sauce thickens. Pour the bechamel sauce into the four pockets.
Step 3/4
Create a stack of alternating layers of ham and cheese. Trim the edges to make a square and cut into 8 long rectangles. Gather them in pairs and turn them on their edge so you can see the different layers. Arrange them on top of the bechamel sauce in the crepe pockets and bake for 10 minutes at 350 °F.
Step 4/4
Remove toothpicks from crepe pockets. Dice the brie cheese and melt it in a sauce pan. Pour it into a loaf pan and cover each pocket with a layer of melted cheese. Sprinkle with chives, serve with salad, and enjoy!
Similar recipes from Chefclub
-
Our other recipes