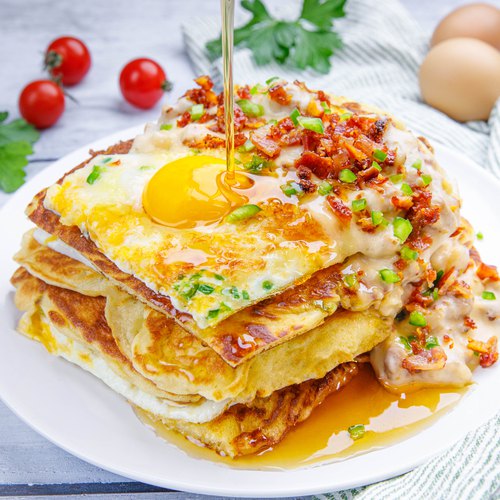 Breakfast Lasagna
A pancake revolution 🥞🤯😍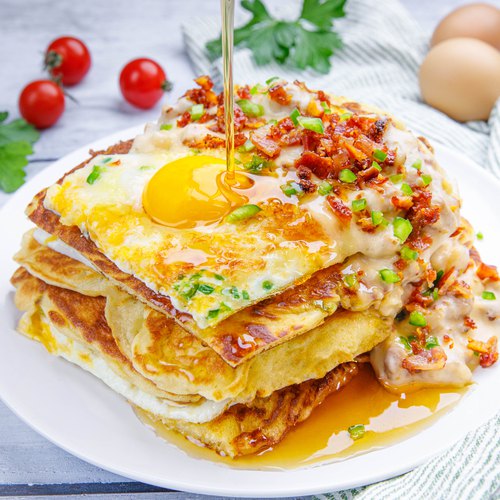 ---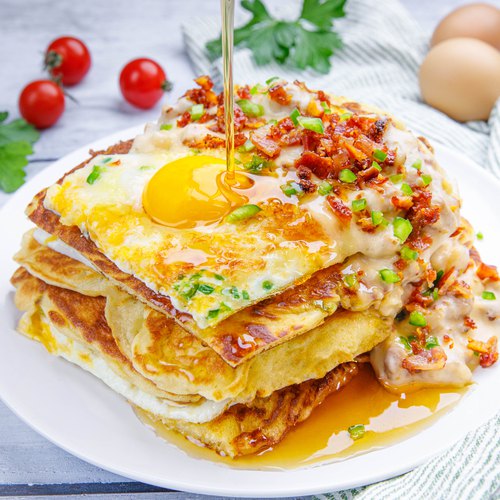 ---
Total time: 1 hour
Prep time: 1 hour
Ingredients for 4 people
16 servings pancake batter mix
2 large slices cheddar
6 slices of bacon
1/4 cup of maple syrup
cooking spray
1 cup of sausage gravy
12 eggs
1/2 cup of shredded colby jack cheese
1 jalapeño
---
Tools
Ziplock bags
Electric griddle
Spatula
---
Step 1/5
Make your favorite pancake batter, enough for 16 servings. Pour the batter into the ziplock bags, filling each with one-third of the batter. Try to remove as much air as possible before sealing the bags, spread out the batter into a thin layer, then place the bags into the freezer. Let freeze completely.
Step 2/5
Melt the cheddar slices into two rectangles the length of a bacon slice on your electric griddle over medium-high heat. Add 3 slices of bacon side-by-side on top of the cheese. Let the cheese caramelize, then flip the squares over, drizzle with maple syrup, and let soak into the bacon and evaporate. Remove from the griddle and let cool. Once cool, dice the cheddar-bacon into bite-sized pieces.
Step 3/5
Remove the frozen pancake batter from the freezer and cut it into 16 squares. Spray the griddle generously with cooking spray, then add the pancake squares to the hot griddle (over medium-high heat). Pro tip: Keep pancakes in the freezer until ready to be cooked. Use a spatula to maintain the square shapes as the pancakes cook. Cook until both sides are deeply golden and the pancakes are fully cooked.
Step 4/5
Heat the sausage gravy over medium-low heat. Add the eggs to a generously-greased sheet pan, then top with the shredded cheese and 3/4 of the diced jalapeno. Bake for about 5 minutes at 350 °F or until the whites are cooked.
Step 5/5
To build the lasagna, place one square pancake on a plate. Top with an egg cut to the same size. Repeat two more times, then top with the sausage gravy, diced cheddar-bacon, and remaining jalapenos. Repeat with the remaining ingredients. Enjoy!