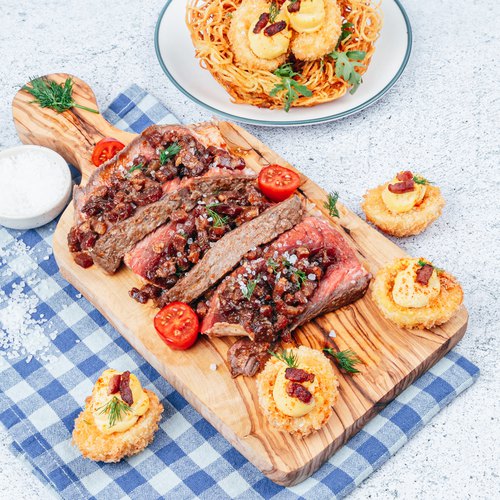 Eggs In A Nest
Eggs In A Nest! With mouthwatering stuffed steak 😋🥩🥚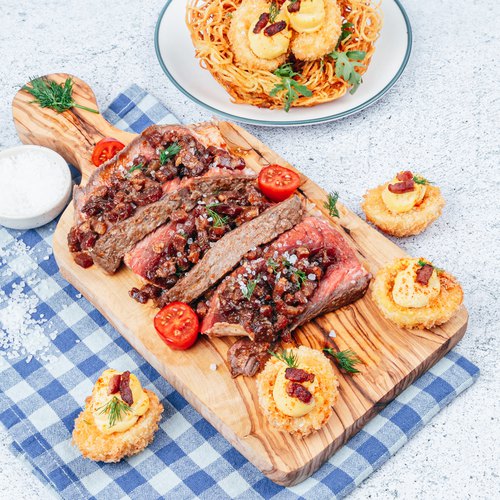 ---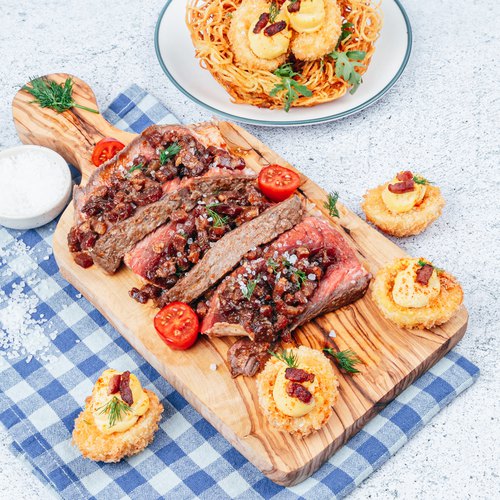 ---
Total time: 2 hours
Cook time: 2 hours
Ingredients for 4 people
1 l of oil
4.4 lbs of tomahawk steak
1 tbsp of olive oil
4.4 lbs of coarse sea salt
2 oranges
2 1/2 tbsp of paprika
1 cup of bacon jam
8 egg
1 tsp of mustard
3 tbsp of mayonnaise
Hot sauce
1/4 tsp of pepper
1 cup of flour
1 cup of breadcrumbs
2 lbs of potatoes
2 tbsp of bacon bits
1 tbsp of dill
---
Tools
Ziplock bag
---
Step 1/4
Preheat the oven to 350°F. Coat the tomahawk steak lightly with olive oil and sear on both sides. When cooled enough to handle, make an incision in the middle of the meat and stuff with bacon jam. Spread the salt evenly over the baking sheet. Mix with orange zest, 2 tbsp of paprika and orange juice. Coat the steak with the salt and bake for 1 hour.
Step 2/4
Spiralize the potatoes to resemble spaghetti noodles. Pat dry with a kitchen towel, shape 1/4 of the potatoes into a nest shape and fry until golden brown.
Step 3/4
Slice the 6 hard boiled eggs in half lengthwise then remove the yolks into a small bowl. Add the mustard, mayonnaise, black pepper, hot sauce (optional) and salt to the yolks. Mix and place in ziplock bag. Coat the egg whites in flour followed by beaten eggs and breadcrumbs. Fry in hot oil until golden brown.
Step 4/4
Cut one corner of the ziplock bag and add the yolk mixture to the center of each fried egg. Top each stuffed egg with a sprinkle of paprika, bacon bits and dill. Add the stuffed eggs to the centers of the potato nests and remove the salt from the steak. Serve and enjoy!