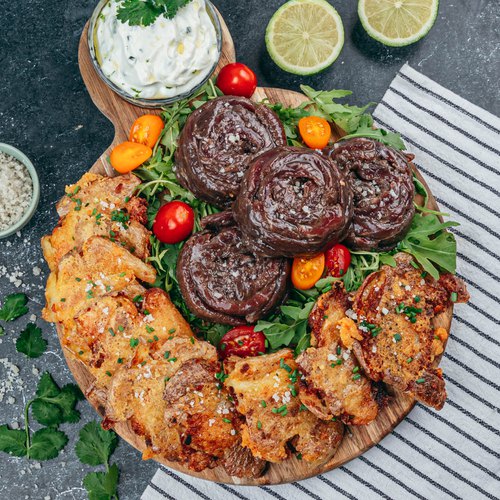 Salt Crust Meat & Potatoes
Salt Crust Meat & Potatoes! Shake things up with this new recipe 🥩🥔😉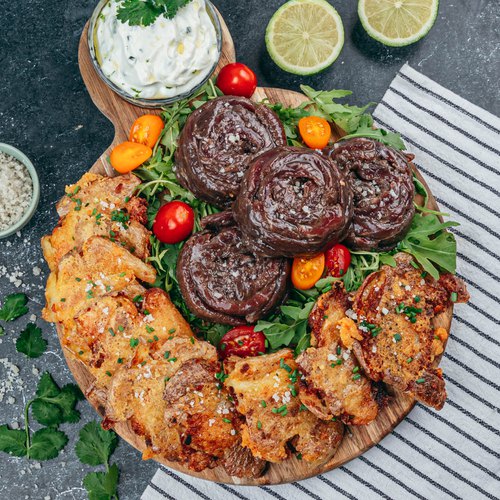 ---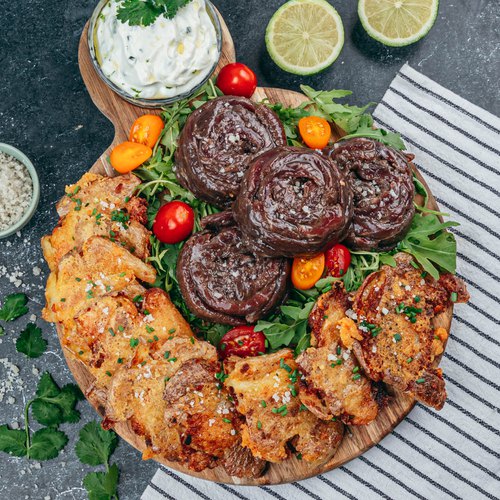 ---
Total time: 2 hours 30 minutes
Cook time: 30 minutes, Rest time: 2 hours
Ingredients for 3 people
2.2 lbs of coarse salt
10 fingerling potatoes
Thyme
18 oz of steak
2 limes
Coriander
3 cups of olive oil
Ginger
4 cloves garlic
1/2 cup of soy sauce
1/2 cup of sugar
1 cup of greek yogurt
2 egg whites
Parmesan
Chives
---
Step 1/3
In a baking dish place a bed of salt then the potatoes and thyme. Mix the rest of the coarse salt (keep 2 handfuls for the meat marinade) with the egg whites and cover the potatoes. Bake at 430°F for 30 minutes and allow to cool slightly. Break the salt crust and carefully remove the potatoes. Wipe them lightly and crush them with a glass. Cook them in a pan with olive oil until golden and sprinkle with parmesan.
Step 2/3
Make a marinade with olive oil, soy, coriander, lime, fresh grated ginger, grated garlic, coarse salt and sugar. Cut the steak into slices and allow to marinate for 2 hours.
Step 3/3
In small ramekins, make rosettes with the steak and add the potatoes. Mix the greek yogurt with lime juice, zest, olive oil, coriander and chives. Serve the sauce with the meat and potatoes. Enjoy!