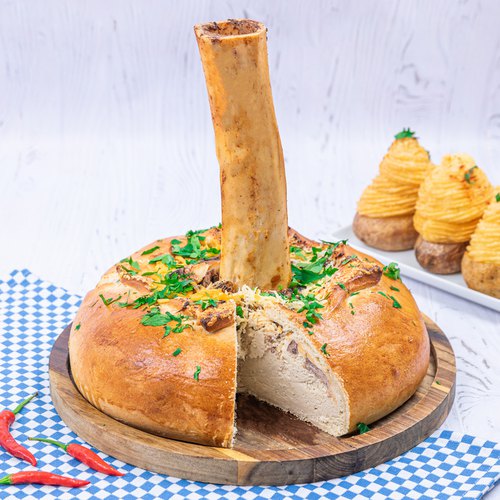 Thor's Hammer Steak Burger
Thor's Hammer Steak Burger! This recipe is a smash 🍖🍔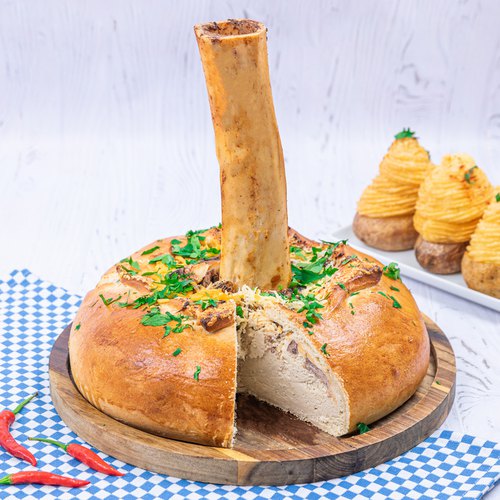 ---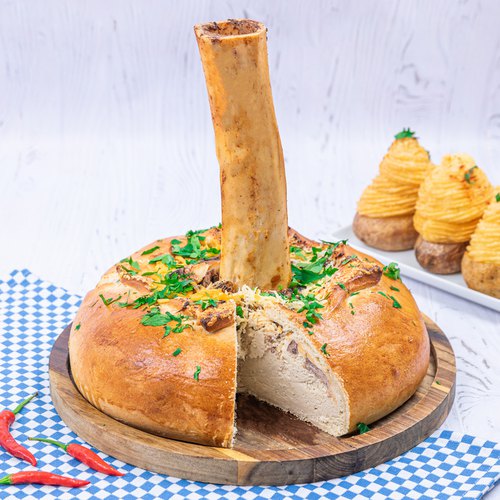 ---
Total time: 7 hours 30 minutes
Prep time: 30 minutes, Cook time: 7 hours
Ingredients for 6 people
1 thor hammer steak
1 cup of bbq seasoning
2.7 lbs of flour
2 cups of milk
Salt
1 cup of sugar
3 tsp of yeast
1.1 cups of butter
1 cup of cheddar
1 cup of comté cheese
1 cup of garlic cloves
1 cup of caramelized onions
10 potatoes
1/2 cup of cornstarch
5 jalapeños
1 cup of gravy
1/2 cup of whiskey
Oil
---
Tools
Hickory wood chips
Blowtorch
parchment paper
Aluminum foil
Cling wrap
Melon baller
---
Step 1/5
Take the thor hammer and coat with BBQ seasoning. Place the soaked hickory chips in a baking dish and set on fire. Place a metal grill on top and the piece of meat after. Cover with parchment paper and aluminum foil. Bake 7 hours at 250°F.
Step 2/5
Place in the electric mixer the milk, yeast, flour, salt and sugar. Mix on medium-low speed with the dough hook for 5 minutes. Add 0.6 cup of butter and mix for an additional 5 minutes. Cover the bowl with cling wrap and allow to double in size. Shape it into a circle on the work surface and garnish with the cheeses, caramelized onions and the steak.Close by pulling the sides together and then flip over onto your baking sheet lined with parchment paper.
Step 3/5
Preheat your oven to 350°F. Let the dough rise for 30 minutes before baking. Take your scissors and cut an X in the top of the dough. Fold the flaps out and then add the garlic cloves on top. Drizzle with whiskey and place in your oven until golden brown.
Step 4/5
Cut off the tops of the potatoes. Remove the center using a melon baller and microwave those balls in a bowl until soft to make mashed potatoes. Add a whole jalapeño to the inside of the potatoes. Mix the mashed potatoes whipped with cornstarch. Pipe over the top of the potatoes. Poke a hole in the potatoes using a straw and pour in your favorite gravy. Fold over some of the potatoes to close the hole. Then fry until golden brown.
Step 5/5
Assemble your double fried potatoes around the brioche meat bun. Serve and enjoy!