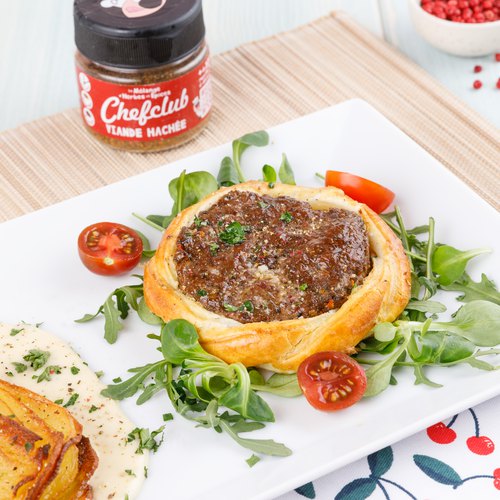 Steak In Camembert Sauce
Steak In Camembert Sauce! A saucy new recipe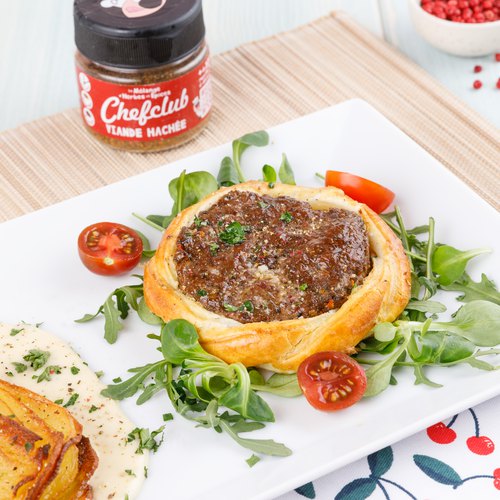 ---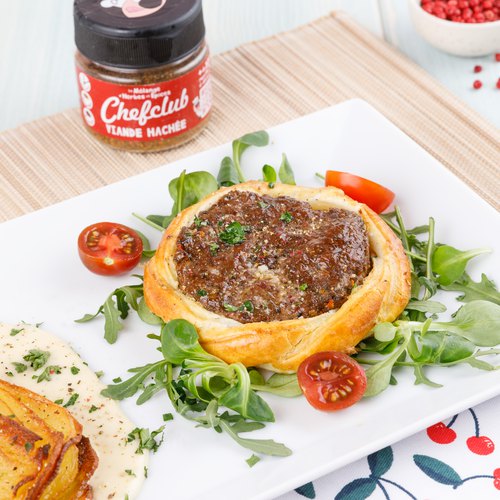 ---
Total time: 1 hour 20 minutes
Prep time: 35 minutes, Cook time: 45 minutes
Ingredients for 3 people
3 potatoes
5 cloves garlic
Oil
1 bay leaf
2 sprigs of rosemary
4 pinches of pepper
1 puff pastry
4/5 lb of ground beef
Chefclub ground beef spice mix
2 tbsp of parsley
1 egg yolk
1 camembert cheese
Mixed berries
Herbs de provence
2 tbsp of white wine
7 tbsp of heavy cream
---
Tools
parchment paper
---
Step 1/3
Cut the potatoes into strips and overlap each strip to form the potatoes again, place them in a dish, add the garlic cloves, pour the oil up to the potatoes. Add the bay leaf, thyme and rosemary and pour the oil. Sprinkle with pepper and bake for 30 minutes at 350°F.
Step 2/3
Cut the puff pastry into 6 strips, braid 2 strips together, repeat for 3 braids, wrap the braids around the edge of the empty camembert boxes. Mix ground beef with Chefclub spices. Place the ground beef in the empty camembert boxes. Dip the puff pastry in the egg yolk. Place the boxes on a baking tray lined with parchment paper, sprinkle with salt, pepper, garlic powder, parsley and bake for 20 minutes at 350°F.
Step 3/3
Cut a camembert in 2 horizontally, sprinkle the inner part with berries and herbs, join the 2 parts and cut them into pieces. Cook them in a hot frying pan, pour in the white wine and the heavy cream. Mix until smooth. Place the meat puffs on one side of the plate, pour a dot of Camembert sauce on the other side of the plate, place the potatoes on the sauce, sprinkle with parsley and enjoy!