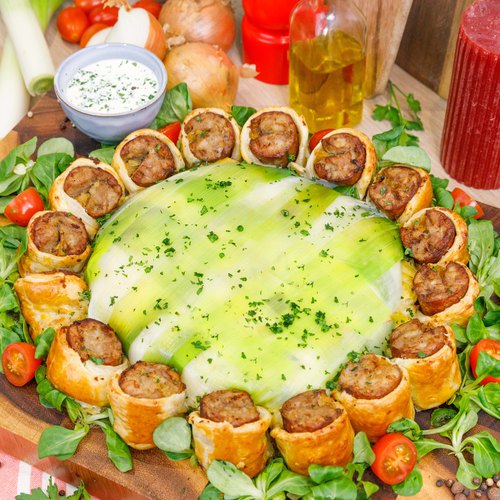 Stuffed Crust Leeks & Sausage
Stuffed Crust Leeks & Sausage! A savory recipe for the whole family 🤗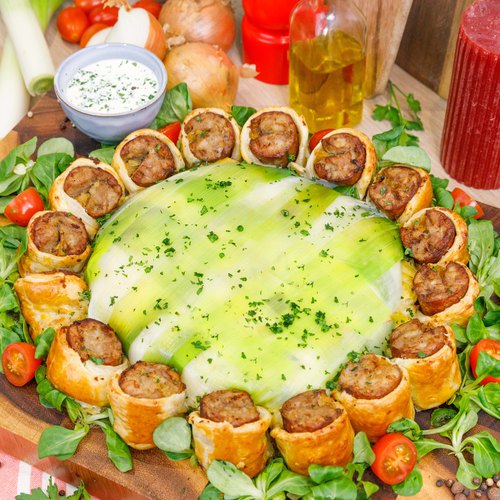 ---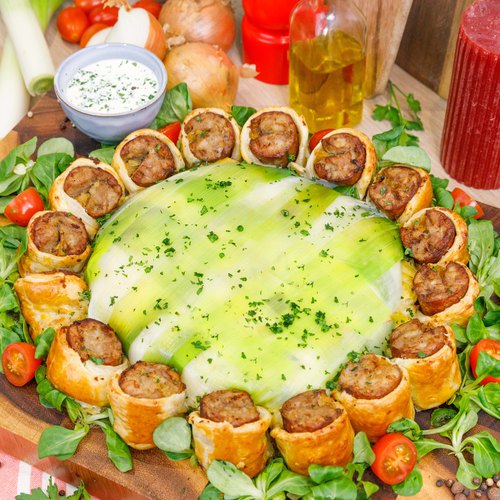 ---
Total time: 2 hours 15 minutes
Prep time: 45 minutes, Cook time: 1 hour 10 minutes, Rest time: 20 minutes
Ingredients for 5 people
6 leeks
0.4 cup of heavy cream
4 tbsp of butter
2 sausage
1 puff pastry
1 1/2 cups of onion confit
1 reblochon cheese
1 egg yolk
Parsley
Salt & pepper
---
Tools
Cling wrap
parchment paper
---
Step 1/4
Cut 4 leeks into pieces and cook for 20 minutes in a buttered pan over low heat. Add the heavy cream to obtain a leek fondue, then simmer for 10 minutes. Season with salt and pepper then set aside.
Step 2/4
Cut the green leaves of 2 leeks, cut the leeks in 2 lengthwise then plunge them in boiling water to blanch them. Drain the leeks, plunge them into ice water then line the strips of leeks in one direction and the other on a plate covered with cling wrap. Place some of the leek fondue in the center of the plate lined with leeks, fold the sides of the leek leaves with the plastic wrap inwards then refrigerate for 20 minutes.
Step 3/4
Cook each side of the sausage in a buttered frying pan, place it in a circle on the puff pastry. Cut a strip of sausage without going to the end to form a space in the center of the sausage then garnish with confit onions. Cover the sausage with the edges of the puff pastry, seal the ends of the pastry with a fork then cut the edges and turn them over with the sausage visible. Prick the center of the pastry with a fork, place the Reblochon in the center, place the rest of the leek fondue around the Reblochon then brush the pastry with egg yolk. Place on a baking sheet lined with parchment paper. Bake for 30 minutes at 350°F.
Step 4/4
Place the chilled leek preparation upside down in the center of the pie to form a dome then bake for 10 minutes at 350°F. Sprinkle with parsley and enjoy!