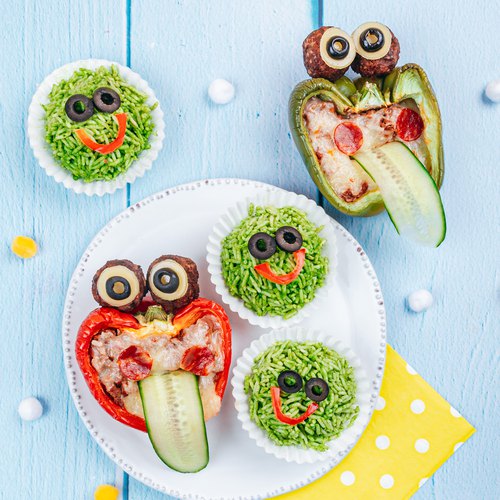 Monster Stuffed Bell Peppers
Monster Stuffed Bell Peppers! This recipe is scary good 😁👾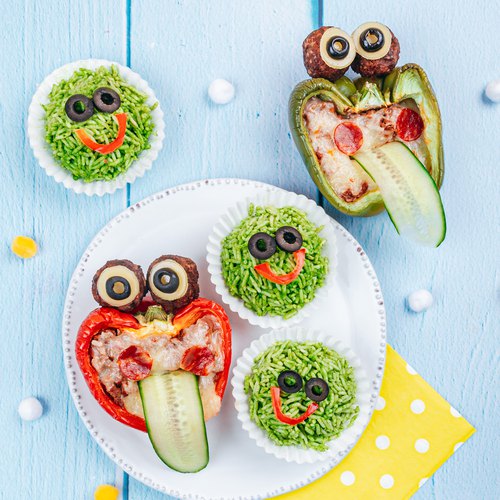 ---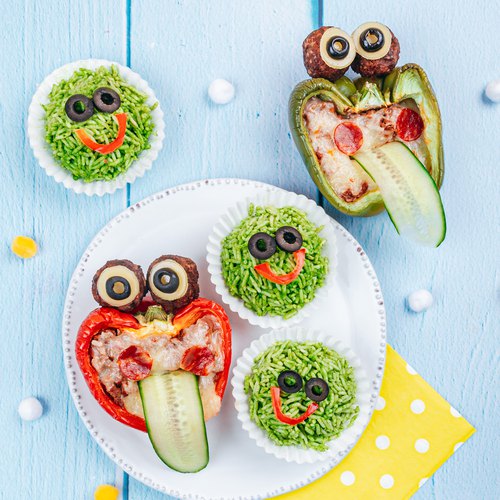 ---
Total time: 30 minutes
Prep time: 15 minutes, Cook time: 15 minutes
Ingredients for 3 people
1 red bell pepper
1 yellow bell pepper
1 green bell pepper
1 cup of shredded mozzarella
2 cups of ground beef
3 tbsp of tomato sauce
2 cups of rice
2 cups of spinach
1/4 cup of olive oil
1 tbsp of water
1 slice of cheddar
6 black olives
Pepperoni slices
---
Tools
Toothpicks
Blender
Cupcake liners
---
Step 1/3
Preheat oven to 350°F. Cut each bell pepper in half. Add 1 mouse of ground beef to each pepper. Add 1 hen of tomato sauce and 1 mouse of shredded mozzarella to each. Add 3 slices of pepperoni on top of each pepper. With remaing ground beef, create 6 meatballs for the eyes. Take the slice of cheese and cut circle with the chick cup (make 6). Cut 6 slices of olives to place on top of the cheese to make the eyes. Reserve in the fridge. Take your 3 stuffed peppers and 6 meatball eyeballs and cook for 15 minutes until done.
Step 2/3
Take 2 chefs of fresh spinach, one mouse of olive oil and one mouse of water. Add to blender and mix until smooth. Add to your bowl of cooked rice and mix.Take 3 cupcake liners and fill each one by taking adding 1 mouse of green spinach rice. Top with your favorite toppings. You can create smiley faces by using the leftover olives. Use leftover red bell pepper to create the mouths.
Step 3/3
Once your stuffed peppers are cooked, take two toothpicks. Add one meatball per toothpick and add two toothpicks to each pepper. Add one cheese circle and 1 olive slice to each meatball to create the eyes. Serve with the green rice and enjoy!