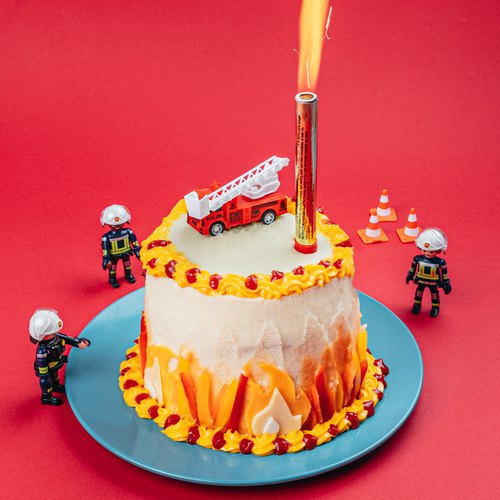 Firefighting Meat & Potatoes
Firefighting Meat & Potatoes! This kids' recipe is on fire 😉🔥‍🚒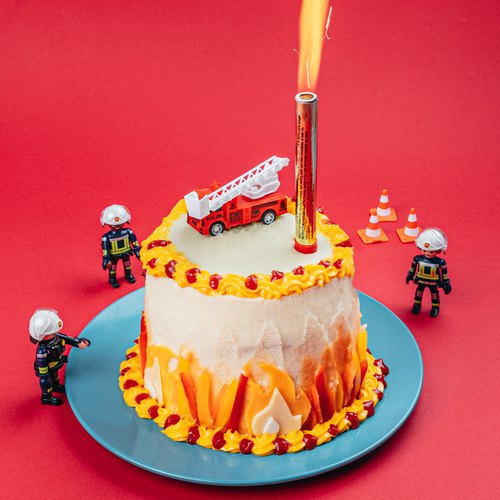 ---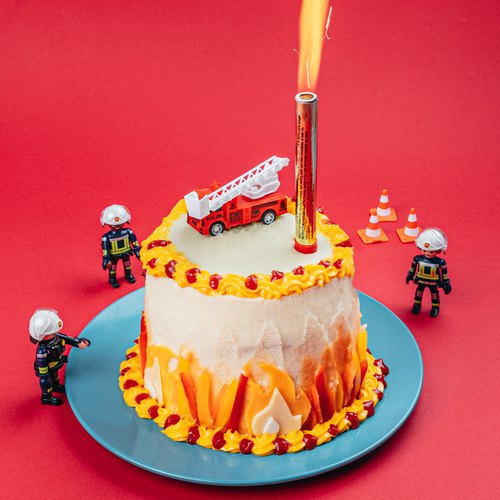 ---
Total time: 50 minutes
Prep time: 10 minutes, Cook time: 40 minutes
Ingredients for 4 people
2.2 lbs of ground beef
1 onion
Herbs
1 egg
Olive oil
Cheddar
Gouda
Mozzarella
Lettuce
Ketchup
Mustard
Pickles
1 orange bell pepper
1 yellow bell pepper
1 red bell pepper
Mashed potatoes
Milk
Mashed sweet potatoes
Cheese whiz
---
Tools
parchment paper
Scissors
Piping bag
Offset spatula
---
Step 1/3
Place the ground beef, diced yellow onion, dried herbs and egg into a large bowl. Mix all ingredients until everything is incorporated. Spray cake pan with nonstick spray and place a portion of beef inside. When the griddle is heated, remove shaped patty from cake pan and cook until it has reached 160°F. Repeat to have 5 patties. Set aside.
Step 2/3
Make 3 stencils of a flame (small medium and large) Using the cheddar cheese for the large, the gouda for the medium and the mozzarella for the small. Place stencil on top of slices of cheese and carefully use kid's knife to cut out 5 of each kind of cheese. Stack a large, medium, and small flame. Once all of the 5 flames are assembled, set aside.Cut strips of each colored pepper (3-4 strips each). Prepare mashed potatoes and sweet mashed potatoes. Place mashed potatoes in a piping bag.
Step 3/3
Place 5 patties on top of each other with spirals of ketchup and mustard. Top 2 with cheese and pickles. Start with a ketchup, mustard one, then a cheese/pickle until all 5 burgers have been stacked. Start making lines up and down the sides of the cake with the potatoes and make a swirl on the top. Grab an offset spatula and spread potatoes evenly to cover all of the patties. Once the mashed potatoes completely cover the cake and have a smooth finish, take the mashed sweet potatoes from the bowl and using the offset spatula flick potatoes from top to middle of cake (to create a flame effect). Take your 5 cheese flames and spread those out along the bottom of the cake. Add the bell pepper slices between the cheese flames. Take cheese whiz and place it into a piping bag with a star tip. Pipe along the outside of the bottom and the top of the cake. Serve and enjoy!