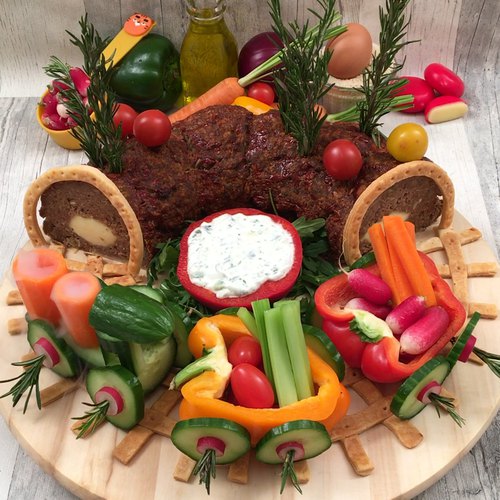 Meatloaf Train
Meatloaf Train! Take your kids on a ride to a the delicious dinner town 🚂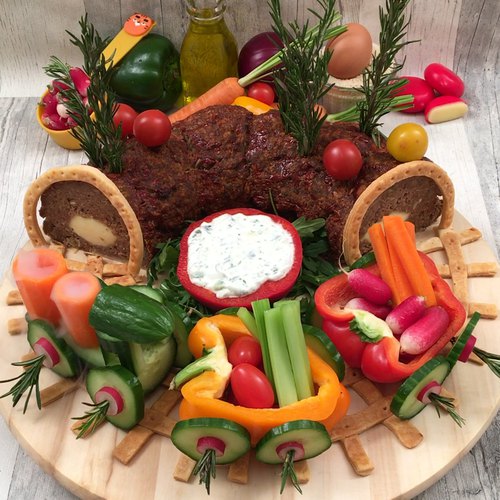 ---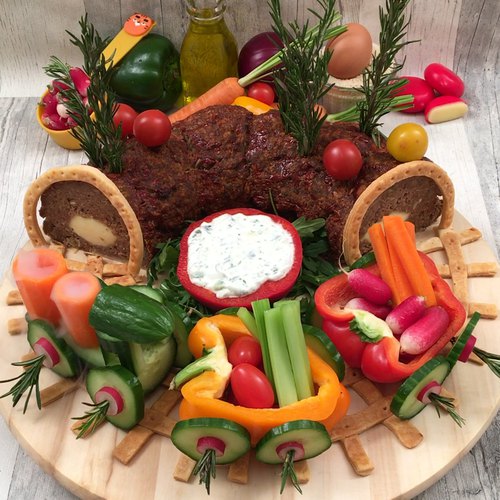 ---
Total time: 1 hour 10 minutes
Prep time: 10 minutes, Cook time: 1 hour
Ingredients for 6 people
1 1/2 puff pastries
5 cups of ground beef
2 cups of breadcrumbs
1 cup of onion
1 cup of milk
2 egg
1/4 cup of ketchup
2 tbsp of worcestershire sauce
1 tbsp of parsley
2 tsp of salt
1 tsp of powdered milk
1 tsp of pepper
1 carrot
1 red bell pepper
1 green bell pepper
1 yellow bell pepper
1 cucumber
9 cherry tomatoes
12 babybel cheeses
Rosemary
1 tbsp of roasted garlic
10 radishes
---
Step 1/4
Cut the puff pastry into train tracks as well as the entrances to the tunnel.
Step 2/4
In a bowl mix the ground beef, breadcrumb, diced onion, garlic, salt, parsley, milk, ketchup, eggs, worcestershire sauce and mix everything. Add meat balls on the rails, flatten the meat with the help of the chef cup. Add Babybels to half of the meat and cover with the remaining ground meat. Add ketchup with a brush on the meat and bake at 350°F for 1 hour.
Step 3/4
Cut a cucumber in half about 2.75 inches long and the rest into slices. Prick a slice of radish and a slice of cucumber on the sprig of rosemary, add the half cucumber and fix the other side with a slice of cucumber and a slice of radish. Build a driver's cabin with the remaining cucumber, and assemble the steam boiler with two hollowed-out carrot pieces.
Step 4/4
Make four train cars with hollowed out bell peppers and add the rosemary, cucumber and radish wheels. Stuff with cherry tomatoes and radishes. Place the train on the rails of the puff pastry and decorate. Serve and enjoy!