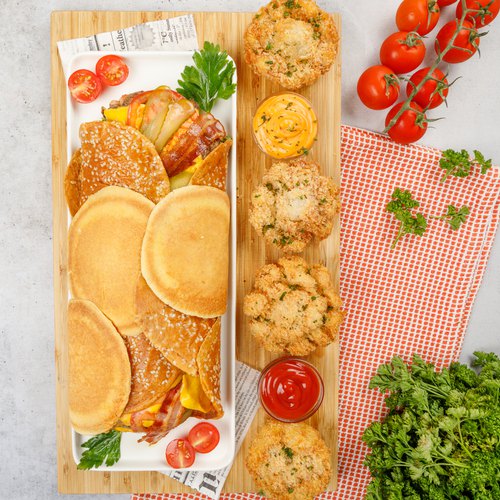 Big Mac Burrito
It doesn't get more burgerlicious than this 🍔🌯🍟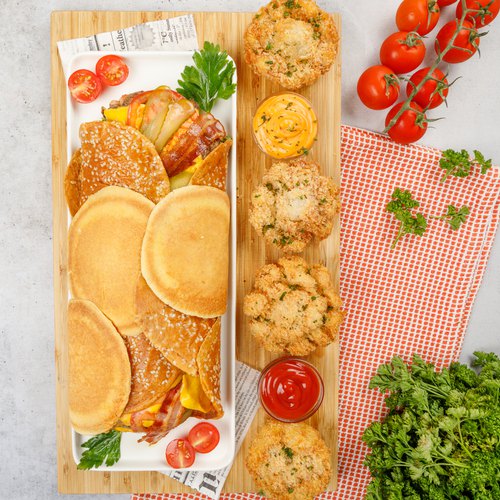 ---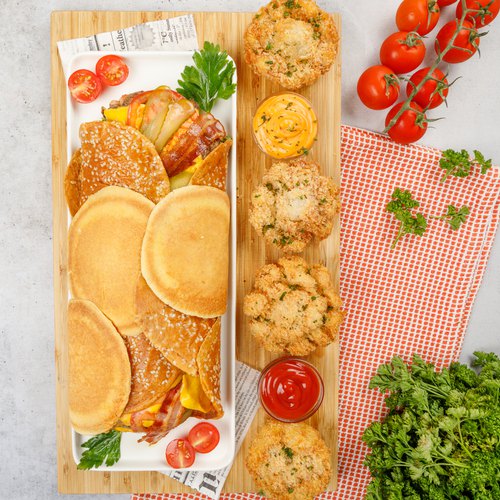 ---
Total time: 45 minutes
Prep time: 25 minutes, Cook time: 20 minutes
Ingredients for 6 people
butter
7 burger bun tops
1/3 cup of burger sauce
21 slices of american cheese
shredded iceberg lettuce
2 onions
1 1/3 pounds of ground beef
sea salt
18 slices of grilled bacon
6 tomato slices
6 pickle slices
french fries
---
Tools
Parchment paper
Rolling pin
Burger press
Electric griddle
---
Step 1/3
Melt butter on an electric grill and place the bun tops in a circular form open face down, then place a parchment paper on top and flatten them with a rolling pin to stick them together. Once toasted, flip, spread out the burger sauce, top with 9 American cheese slices, sprinkle with lettuce and set aside. Keep warm in oven.
Step 2/3
Butter the grill again, add the thinly sliced onions and 6 ground beef patties, sprinkle with sea salt, and flatten using the burger press. Flip once cooked as desired, then add 2 slices American and 3 slices of grilled bacon on top of each burger. Stack 3 patties on top of the other 3 patties to create 3 double patties.
Step 3/3
Place the 3 patties down the center of the burger buns, top with sliced tomatoes and pickles, and fold over the edges and create the burrito. Serve with fries and enjoy!